Cheval de Frise
Posted on:
other names
lifespan
–
genres
located in
Bordeaux, Gironde, France
related artists

l'ocelle mare
Tormenta
False Cognates
Powerdove
Le Chant De L'Amour Triomphant
Tomy
Arlt
Radikal Satan

members

Thomas Bonvalet

:

Vincent Beysselance

:

associated labels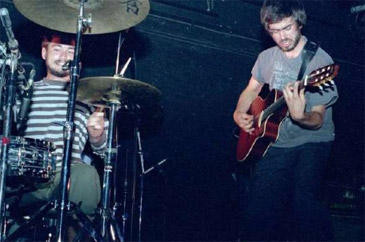 Cheval de Frise (literally "Frisian horse", but more commonly an anti-cavalry array of spears/spikes) was a French math rock/brutal prog outfit of the early s. Utilizing the somewhat unusual instrumentation of an amplified (sometimes using overdrive/distortion) classical guitar combined with an acoustic

drumkit, Cheval de Frise made music recalling the American primitive-inspired
    title="H&ndash;S321.322">guitar</data></pre>work of

Gastr del Sol, although Cheval de Frise's music is utterly unique. Their sense of harmony & melody is fairly abstract, thus the avant-prog label; this sense has lead some to erroneously label Cheval de Frise with terms like "jazz rock" and "jazz punk", although in actuality there is no

jazz influence. Cheval de Frise does not feature

much (if any) improvisation, and the song structures, melodies, and harmonies are all unrelated to those of jazz music.

Admittedly, Cheval de Frise is one of my favorite bands; if you like them, I recommend checking out guitarist Thomas Bonvalet's solo project, l'ocelle mare (literally Catalan for "the mother bird"). Drummer Vincent Beysselance went on to form a band called Tormenta (q.v. their LP, "La ligne âpre").
notes on the distributions
Their debut self-titled LP is sometimes erroneously listed with a release year of . This is due to the Sickroom Records re-issue; the original release was in on Sonore.
Cheval de Frise's side of the split with Rroselicoeur also appears on "Fresques Sur Les Parois Secrètes Du Crâne". Rroselicoeur's side also appears on their LP, "Demios Oneiron".
Cheval de Frise discography
title
Cheval de Frise
[split] Cheval de Frise / Rroselicoeur
Fresques Sur Les Parois Secrètes Du Crâne
La Lame Du Mat
cover art

other art
year
tracklist

1

Connexion Monstrueuse Entre Un Objet Et Son Image

2

Noblesse De L'Échec (1)

3

Constructions D'Écorces D'Arbres

4

Langue Hastée

5

Lundi Deux Mars

6

Un Pont Et Des Eaux Noires Limoneuses

7

Incliné Et Chenu

8

Le Feu, Le Lin Et La Bougie

9

Les Canaux Sont Ouverts, Les Moustiques Meurent, Le Monstre Disparait

10

Mille Courbettes

11

Douche Froide, Harmonium

12

Le Vestibule Des Lâches

13

Noblesse De L'Échec (2)
total duration

1

Cheval de Frise — L'Agonie Dans Le Jardin

2

Rroselicoeur — No Twist At The End
total duration

1

Lucarne Des Combles

2

Bora Lustral

3

Le Puits

4

Deux Nappes Ductiles

5

Songe De Pertes De Dents

6

Fresques Sur Les Parois Secrètes Du Crâne

7

L'Agonie Dans Le Jardin

8

Phosphorescence De L'Arbre Mort

9

IX

10

Chiendent
total duration

1

I

2

II

3

III

4

IV

5

V
total duration

distributions
None! Do you have one?