Daïtro
Posted on:
Last edited on:
other names
lifespan
–
genres
located in
Lyon, Rhône, France
related artists

Bâton Rouge
12XU
Mihai Edrisch
gantz
Potence
Simfela
La Sixième Faute
Contractions
Ancre
Torino

members

Julien Paget

:

guitar
secondary vocals
vocals

Samuel Moncharmont

:

Benoît Desvignes

:

Aurélien Verdant

: ( – )

Gwenaël Grosclaude

: ( – )

Thomas

: ( – )

associated labels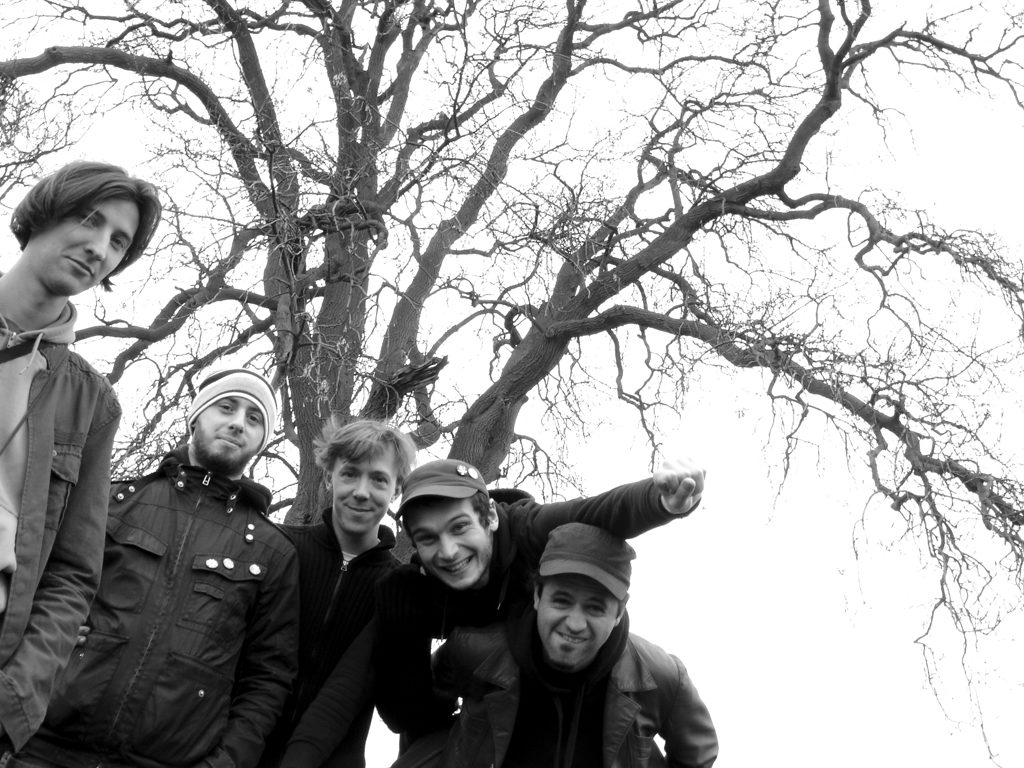 Daïtro was a French screamo band that played in what some might call "the French [or, European] style" (see also: Le Pré Où Je Suis Mort). They were highly influential as a band, influencing countless post-hardcore bands from Europe, the Americas, Japan, and elsewhere. Drummer Benoît Desvignes was also a member of screamo/post-rock/math rock outfit Mihai Edrisch. The members of Daïtro went on to pursue other musical projects, like Bâton Rouge, 12XU, the solo works of Samuel Moncharmont, &c. Founding Daïtro member Julien Paget created the Echo Canyon record label.
Daïtro's music is characterised by somewhat elaborate use of block chords; Daïtro's sound is easily recognized by the kinds of voicings they used. The melodies of Daïtro are often subtle yet poignant, weaving through the gradual counterpoint of the walls of chords that they use. Even the detatched melodies and riffs are themselves often derived from broken chords. Their vocal stylings are almost exclusively screamed and/or spoken. In spite of this, Daïtro's music comes off as strangely "melodic", in the sense of pop-punk or perhaps even melodic hardcore. Combining this with a clear post-rock influence (think Envy), Daïtro had a very unique sound that helped to cement them in the pantheon of screamo greats.
notes on the distributions
The first track on "Des Cendres, Je Me Consumme" (here listed as "[intro]") is actually unlisted on the original release. As a result, this track is not only given various names by various sources, but it is also sometimes listed as "Mon Corps", which is actually the second track on the album. This results in such listings getting every single track name wrong, and leaving the last one (rather than the first) untitled.
Daïtro's contribution to "This Is Your Life" is sometimes listed as being untitled. The distribution of "This Is Your Life" given here only includes Daïtro's contribution.
Because Daïtro appears on two distinct split records that also feature Italian punks Raein — on each of which Daïtro effectively contributes the same tunes — some sources (including Rate Your Music and Discogs) confound and/or conflate the two albums. This sometimes leads to inconsistent track listings. Also, "La Rock = Un Bateau Ivre" is often simply "Un Bateau Ivre" (or sometimes even "La Rock").
The untitled Daïtro / Raein split has two distributions: the first contains the entire record in VBR (V0) MP3, and the second contains Daïtro's side of the split in CBR 320kb/s MP3, apparently sourced from the "2002-2005" compilation record. Because both are of dubious quality and origins, both are supplied.
Raein's contributions to "The Harsh Words As The Sun" are sometimes listed as "Döden Marscherar Åt Väst Part 1" and "Döden Marscherar Åt Väst Part 2", as they are originally from Raein's "Döden Marscherar Åt Väst".
The distribution of "The Emo Armageddon" given here only includes Daïtro's contribution.
Ampere's and Daïtro's contributions to their split record are spread across two digital releases. Ampere's is represented by the first two tracks of "The First Five Years" (linked within the distributions below).
At least one release of the Daïtro / Sed Non Satiata split places Sed Non Satiata's material before Daïtro's, i.e. swaps sides A and B. As a result, some listings will reflect that order. The listing used here is the one used most often, and the one that appeared on the original release.
The tracks on "Y" have no real titles, so some sources will give different names to the tracks because the first two (here listed as "1a" and "1b") are sometimes treated as a single track: "1", or sometimes as two separate tracks, but instead titled "1" and "2". The listing here follows the listing on Daïtro's official bandcamp page.
Daïtro discography
title
Daïtro
Des Cendres, Je Me Consumme
[V/A] This Is Your Life
[split] Daïtro / Raein
[split] The Harsh Words As The Sun
[V/A] The Emo Armageddon
Laisser Vivre Les Squelettes
[split] Ampere / Daïtro
US Tour
[split] Daïtro / Sed Non Satiata
Y
cover art

other art
year
tracklist

1

Codec

2

WTC

3

Redrum
total duration

1

[intro]

2

Mon Corps

3

Mes Chiffres

4

Mon Insomnie

5

Les Slogans Uniformes

6

Des Cendres

7

Je Me Consumme
total duration

1

cleaner — Tomoko No Hanashi (Kimodori)
???

2

Raein — BBD
???

3

The Third Memory — Maybe We Will
???

4

Katyn — Wer Soll Das Bezahlen? Wer Hat Soviel Geld?
???

5

Daïtro — Des Visages Et Des Muscles

6

My Precious — My Life Is Weird
???

7

Room Two37 — Empty Faces
???

8

Utarid — Untitled
???

9

La Quiete — La Parte Sinistra Del Corpo

10

The Apollo Program — The Jaded Forensic Unit
???

11

Francis Brady — Untitled
???

12

Bravo Fucking Bravo — Car Terminator Vs. The Backseat Mosh
???

13

Snowman — Young Pericolzy
???

14

Wilderness Medicine — York
???

15

Humousexual — Yumus Beats
???

16

The Pine — Knowone Cares
???

17

Catena Collapse — Let's Grow Sick Together
???

18

Belle Époque — Hier, Si Loin

19

The Machines Will Take Over — Reminders
???

20

Lobo's Son — The Circle Cuts
???

21

A Light In The Attic — Last Wrist
???

22

Sheltek — The Loss
???

23

Simfela — Solipsism Solipsism
???

24

gantz — Hors Conditions (La Mélodie Du Chaos)

25

Tidal — Peacemaker
???
total duration
???

1

Daïtro — Au Bout De Mes Lèvres

2

Daïtro — Un Bateau Ivre

3

Daïtro — À Chaque Fois

4

Raein — Faithless

5

Raein — New Day Scenario

6

Raein — Blue Lines
total duration

1

Raein — Parte 1

2

Raein — Parte 2

3

Lhasa — Mother Earth Father Sky

4

Lhasa — Fallen Grace

5

Lhasa — Bogged Horizon

6

Daïtro — Redrum Jr

7

Daïtro — La Rock = Un Bateau Ivre

8

Daïtro — Le Bout De Mes Lèvres
total duration

1

Louise Cyphre — Seelenhalma

2

Boa Narrow — You Guys Vs. Each Other

3

The Mock Heroic — At Your Disposal

4

What Price, Wonderland? — Fronts

5

Utarid — To Heal and to Kill

6

Danse Macabre — Merci Beaucoup, Warenform

7

Zann — Durch Die Blume

8

Am I Dead Yet — Monk Vs. Mingus

9

Dasein — Odio

10

Cease Upon the Capitol — Paralysis

11

June Paik — Cocoon (Evolution)

12

A Fine Boat, That Coffin! — Lasst Uns Den Jungen Nicht Vergessen

13

SL-27 — Dude, You Are Sooo Black Metal

14

La Quiete — Una Vita Veloce

15

Shikari — Gegen Geigen

16

Daïtro — Vivre Ici

17

Yossarian Is Drowning — A Message of Dissent

18

Raein — Armento Zo Bota
total duration

1

Laissez Vivre Les Squelettes

2

Chaque Seconde

3

Les Orbites En Eveil

4

Nous Sommes D'Ici

5

Comme Du Papier

6

Pourquoi Les Inconnus Restent-Ils Inconnus ?

7

Trois Murs Pour La Salle De Torture

8

Se Noyer, S'Oublier, Regarder Partir
total duration

1

Ampere — Escapism

2

Ampere — Diffident Dissonance

3

Daïtro — La Substance Et La Matière
total duration

1

Des Plaies Ouvertes

2

Et Du Béton
total duration

1

Daïtro — De L'Eau Coule Sous Les Ponts

2

Daïtro — Place Tolozan

3

Daïtro — Nous Ne Participons Pas Tous Ici À La Même Utopie

4

Daïtro — Un Fléau Pour Un Autre

5

Sed Non Satiata — Les Hommes Sans Visage

6

Sed Non Satiata — Des Masques

7

Sed Non Satiata — Interlude

8

Sed Non Satiata — Des Ruines
total duration

1

1a

2

1b

3

2

4

3

5

4

6

5

7

6

8

7

9

8

10

9
total duration

distributions

| dspr? | format | source | gratis? | URLs |
| --- | --- | --- | --- | --- |
| no | FLAC @ 44.1kHz & 16bit | bandcamp | no | |

| dspr? | format | source | gratis? | URLs |
| --- | --- | --- | --- | --- |
| no | FLAC @ 44.1kHz & 16bit | bandcamp | no | |