Deadguy
Posted on:
Last edited on:
lifespan
–
genres
located in
Middlesex County, New Jersey, United States
related artists

Kiss It Goodbye
Rorschach
Human Remains
Lifetime
Ressurection
Barrakuda McMurder
Doc Hopper
Faux Replika
For Science
Mikey Erg
Nervous Triggers
School Drugs
Science Police
Sinkhole
The A.G's
The Measure [sa]
Chain To Thread
Crud Is A Cult
Flagman
Mouthpiece
Gallery Of Mites
Lord Sterling
Monster Magnet
RiotGod
Die 116
Bitter Branches
No Escape
Process Black
Playing Enemy

members

Chris Corvino

:

Keith Huckins

: ( – )

Tim Singer

: ( – )

Tim Naumann

:

Dave Rosenberg

:

Jim Baglino

: ( – )

Chris Pierce

: ( – )

Tom Yak

: ( – )

associated labels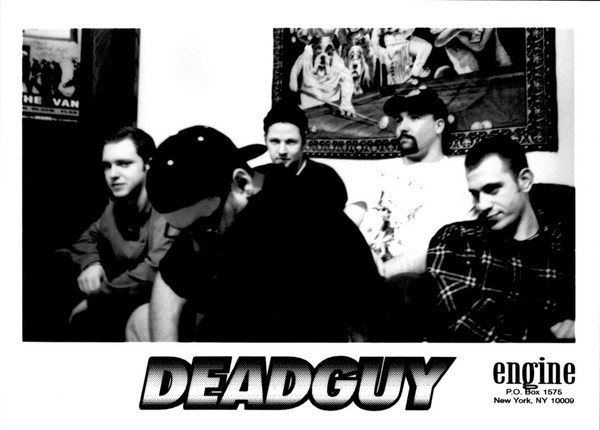 Deadguy are a band that — one would hope — needs no introduction, but here we are, after the release of the seminal "Fixation on a Coworker"! Deadguy was a fairly early metalcore band hailing from New Jersey that formed after the breakup of fellow New Jersey metalcorers Rorschach (guitarist Keith Huckins of Rorschach was a founding member of Deadguy). Rorschach were a pretty legendary band themselves, being one of the first (along with Ohio natives Integrity) to pioneer the genre of metalcore. Deadguy, however, managed to sound remarkably modern (while still being in the old-school "metallic hardcore" style), and were a key innovator of the mathcore genre, arguably being the first

mathcore band. Between the breakneck, thrash-inspired

riffs, the abrupt changes of metre, and the use of dissonant, screeching chords often formed around tritones, Deadguy paved the way for mathcore. Suffice it to say that without Deadguy, there would be no The Dillinger Escape Plan (also from New Jersey) and no Botch.

"Fixation on a Coworker" was the last Deadguy release featuring founding members Keith Huckins and Tim Singer, who departed from the band to form Kiss It Goodbye (also mathcore/metalcore) with former Rorschach members Thom Rusnack and Andrew Gormley.

An official Deadguy documentary is slated to be released in late . You can watch the trailer (released ) on YouTube here. There is also an associated website here: https://www.deadguykillingmusic.com/ (archived).
notes on the distributions
"Whitemeat" is sometimes listed as "White Meat".
On some releases, "Screamin' With The Deadguy Quintet" does not list the final track, "Prosthetic Head".
Deadguy discography
title
Whitemeat
Work Ethic
Fixation on a Coworker
Screamin' With The Deadguy Quintet
I Know Your Tragedy
cover art

other art
year
tracklist

1

Druid

2

The Extremist

3

John Dear
total duration

1

Running With Scissors

2

Apparatus

3

Puny Human
total duration

1

Doom Patrol

2

Pins and Needles

3

Die with Your Mask On

4

Baby Arm

5

Makeshift Atomsmasher

6

The Extremist

7

Nine Stitches

8

Riot Stairs

9

Apparatus

10

Crazy Eddie
total duration

1

Human Pig

2

(Escape From) The Fake Clink

3

Turk 182

4

Free Mustache Rides

5

Angry Dwarf

6

Prosthetic Head
total duration

1

(Escape From) The Fake Clink

2

Doom Patrol

3

Die With Your Mask On

4

Human Pig / The Extremist

5

Makeshift Atomsmasher

6

Baby Arm

7

Pins And Needles

8

Turk 182

9

Apparatus

10

John Dear

11

Electric Funeral [demo] [Black Sabbath cover]
total duration

distributions

| dspr? | format | source | gratis? | URLs |
| --- | --- | --- | --- | --- |
| no | | Deadguy | no | |