Do Make Say Think
Posted on:
other names

DMST
D.M.S.T.
Th' Do Makes
The Do Makes

lifespan
– present
genres
located in
Greater Toronto Area, Ontario, Canada
related artists

Broken Social Scene
Lullabye Arkestra
Völur
Valley of the Giants
Years
K.C. Accidental
Gesundheit

members

Charles Spearin

:

bass guitar
trumpet
keyboards
guitar

Ohad Benchetrit

:

guitar
bass guitar
saxophone
flute
trumpet

Justin Small

:

guitar
bass guitar
keyboards

James Payment

:

Dave Mitchell

: ( – present)

Jason MacKenzie

: ( – )

associated labels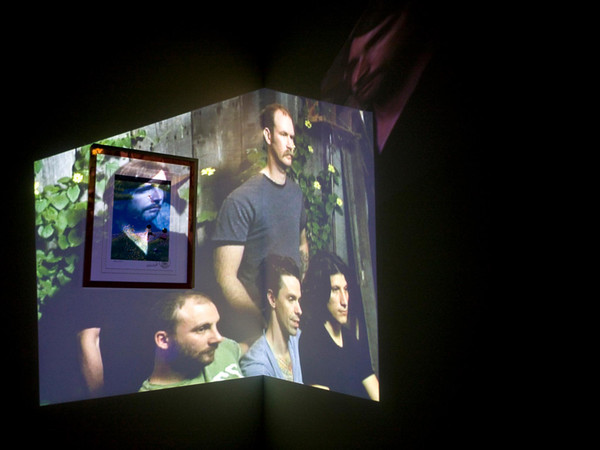 Do Make Say Think is a post-rock band from Toronto, first formed in . While their debut (self-titled) album was not originally released on Constellation in , it was reissued by the label , and the band has worked almost exclusively with Constellation since then. Do Make Say Think consists of several multi-instrumentalists and features a wide variety of instrumentation in their music, but they are perhaps best known instrumentation-wise for their bass guitar work and double drumming (James Payment and Dave Mitchell both drumming for the band). The band is closely associated with Broken Social Scene, an experimental indie rock collective featuring Ohad Benchetrit and Charles Spearin of Do Make Say Think. Having released seven (eight, if you count "The Whole Story Of Glory") full-length records as of this writing, Do Make Say Think continues to be one of the most influential, well-respected, and unique bands associated with the "post-rock" label.
DMST were originally very inspired by the music of seminal Chicago post-rockers Tortoise (and members of DMST have since worked with Tortoise drummer John McEntire as part of Broken Social Scene). Do Make Say Think's self-titled album retains the dub and krautrock influences of Tortoise, albeit with DMST's trademark double-drumming sound, significant use of wind instruments, some oddly catchy melodies and basslines, and even a heavy release-of-buildup section (see: "Disco & Haze"). Later releases somewhat downplayed these electronic influences, favoring a style even more influenced by american folk music than "Do Make Say Think" already was. The influence of deeply electronic forms of music like the aforementioned dub and krautrock, combined with the influence of american folk music, the band's complex/unusual but coherent (and often essentially monothematic(!)) compositional structures, use of a wide variety of instrumentation and of improvisation, unique double-drumming and bass guitar styles, and essentially punk & DIY ethic (similar to labelmates Godspeed You! Black Emperor and A Silver Mt. Zion) has made Do Make Say Think the fiercely unique and respected post-rock band that we know today.
notes on the distributions
The cassette listed here as "[demo]" has an uncertain release date (as it was never officially "released" per se, being a simple cassette demo); it may have been released in (and this is the date given by Discogs), or possibly in or perhaps even sometime in before the release of their debut. It was uncovered in , with the details and some recordings posted to the Weird Canada blog (archived).
"Besides" was a vinyl-only release, released by Resonant rather than Constellation. According to the album's Wikipedia page, the liner notes read:
Theres not much to do in Toronto on Tuesday night. Mabie yer friends and their problems have got the best of you and if its February on top of that, yer doomed. The highest of praise for the 8-track comes at these moments. The songs recorded are the purest of inspiration. Not intended for anyone elses ears but your own at the time. They are "the undeniable truths". Because after the stolen bikes, stoned Sunday afternoons, bounced rent cheques, awkward conversations with x-girlfriends, sunsets, pet deaths, first kisses and last goodbyes itsa good idea to hit play & record. Yes.
"The Whole Story Of Glory" was a Japan-only tour CD.
On "Stubborn Persistent Illusions", "As Far as the Eye Can See" is the alternative title for "d=3.57√h". The title used here is the one associated with the digital release (presumably used for its ability to be accurately represented in Unicode…), as listed on the official bandcamp page.
Do Make Say Think discography
title
[demo]
Do Make Say Think
Besides
Goodbye Enemy Airship The Landlord Is Dead
& Yet & Yet
Winter Hymn Country Hymn Secret Hymn
You, You're A History In Rust
The Whole Story Of Glory
Other Truths
Stubborn Persistent Illusions
cover art

other art
year
tracklist

1

The Fare to Get There [demo]

2

Disco & Haze [demo]

3

Le'espalace [demo]

4

Easing

5

Crystal
total duration

1

1978

2

Le'espalace

3

If I Only...

4

Highway 420

5

Dr. Hooch

6

Disco & Haze

7

Onions

8

The Fare To Get There
total duration

1

I Love You (La La La)

2

Bobby Zincone

3

Our Man In Havana

4

A Week In The Dark
total duration

1

When Day Chokes The Night

2

Minmin

3

The Landlord Is Dead

4

The Apartment Song

5

All Of This Is True

6

Bruce E Kinesis

7

Goodbye Enemy Airship
total duration

1

Classic Noodlanding

2

End Of Music

3

White Light Of

4

Chinatown

5

Reitschule

6

Soul And Onward

7

Anything For Now
total duration

1

Fredericia

2

War On Want

3

Auberge Le Mouton Noir

4

Outer Inner & Secret

5

107 Reasons Why

6

Ontario Plates

7

Horns Of A Rabbit

8

It's Gonna Rain

9

Hooray! Hooray! Hooray!
total duration

1

Bound To Be That Way

2

A With Living

3

The Universe!

4

A Tender History In Rust

5

Herstory Of Glory

6

You, You're Awesome

7

Executioner Blues

8

In Mind
total duration

1

The Landlord Is Dead

2

Reitschule (Live Recording From Hillside Festival 2007)

3

Frederica

4

The Universe! (Live Recording From CBC Radio 3 Session 2007)

5

March Of Worms

6

THofR Part Three

7

Disco & Haze
total duration

1

Do

2

Make

3

Say

4

Think
total duration

1

War on Torpor

2

Horripilation

3

A Murder of Thoughts

4

Bound

5

And Boundless

6

Her Eyes on the Horizon

7

As Far as the Eye Can See

8

Shlomo's Son

9

Return, Return Again
total duration

distributions

| dspr? | format | source | gratis? | URLs |
| --- | --- | --- | --- | --- |
| no | FLAC @ 96kHz & 24bit | bandcamp | no | |