Dysrhythmia
Posted on:
Last edited on:
other names
lifespan
– present
genres
located in
related artists

While Heaven Wept
Gorguts
Byla
Behold… The Arctopus
Krallice
Zevious
Sabbath Assembly
Kevin Hufnagel
Indricothere
Infidel? / Castro!
Encenathrakh
Hathenter
Vaura
Sailors With Wax Wings
Glyptoglossio
Grey Blue Division
White Moth
Phonon
Crator
Catatonic Effigy

members

Kevin Hufnagel

:

Jeff Eber

: ( – present)

Colin Marston

: ( – present)

Clayton Ingerson

: ( – )

associated labels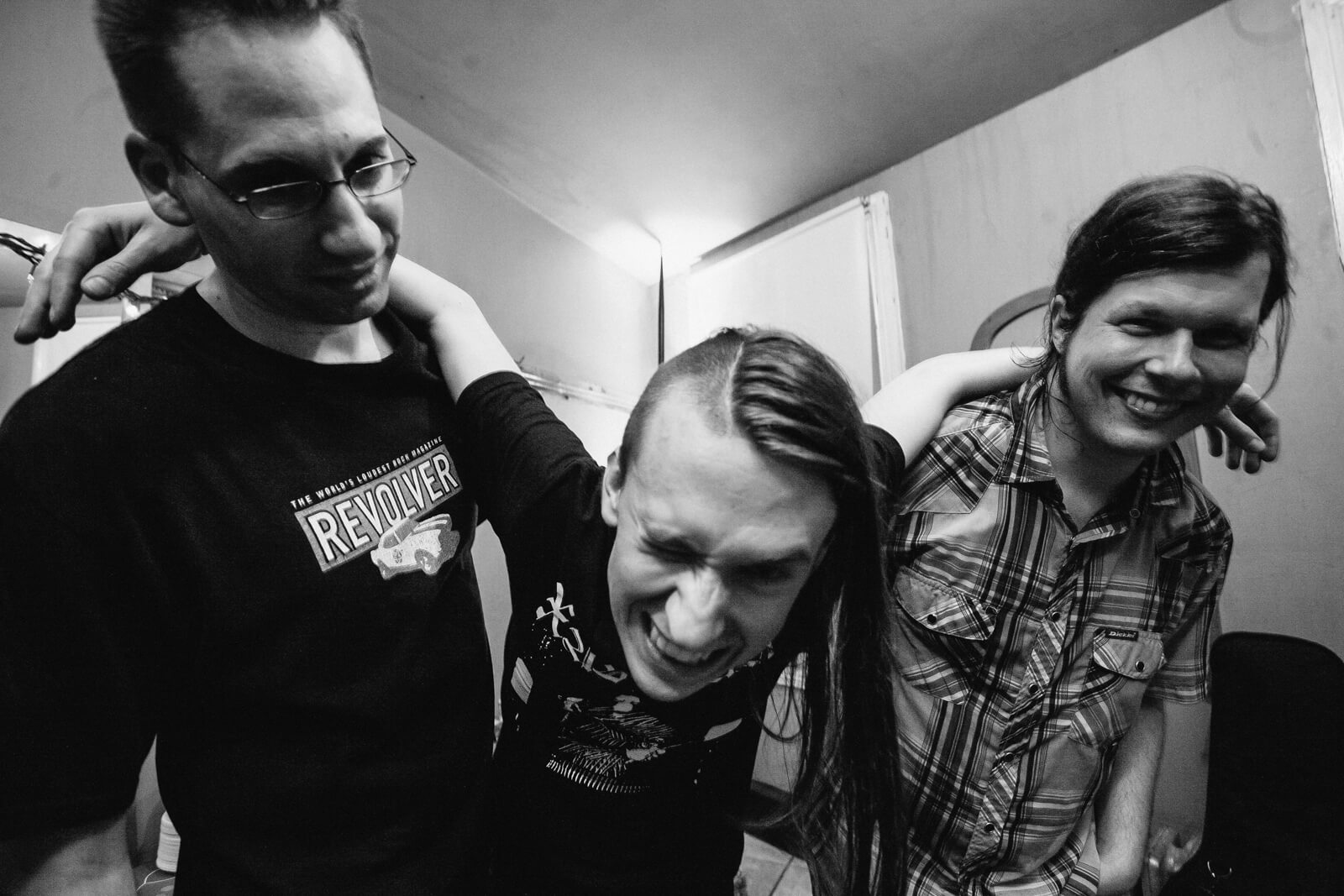 Dysrhythmia is a brutal prog/progressive metal band from Philadelphia — and now, Brooklyn — formed in . Originally an informal collaboration between guitarist Kevin Hufnagel and bass guitarist Clayton Ingerson, Dysrhythmia became a rock band in earnest with the addition of drummer Jeff Eber in . It was with this lineup that Dysrhythmia released their first three full-length albums, including "Pretest", their first release with Relapse Records. At , however, founding member Clayton Ingerson left the band and was replaced by Colin Marston on bass guitar. Marston has engineered most of the band's work since then, in Menegroth: The Thousand Caves, his recording studio in Queens. Both Clayton Ingerson and Kevin Hufnagel have played as part of doom metal outfit While Heaven Wept. Both Kevin Hufnagel and Colin Marston are also members of the new (reunited) lineup of Canadian tech death outfit Gorguts. Jeff Eber has been a member of New York jazz metal/avant-prog outfit Zevious since its inception in . Colin Marston has created and/or been a member of a variety of other experimental music (usually, but not always, metal/rock-oriented) projects, most notably Krallice, Behold… The Arctopus, Infidel? / Castro!, and Indricothere (a solo project).

The music of Dysrhythmia has been consistently "difficult", insofar as it is characterised, in the minds of most people, as being technical & abrasive instrumental metal/rock. It is, however, considerably more rooted in traditional approaches to musical composition — associated with progressive rock/metal, ultimately western classical music, and even math rock — than the music of, say, Behold… The Arctopus. Somewhat humorously, RateYourMusic consistently labels Dysrhythmia's music as "math rock". While Dysrhythmia do show signs of influence from fellow Pennsylvania natives Don Caballero — particularly in their earlier works — the actual influence of post-hardcore is minimal, and Dysrhythmia's music (again, particularly later work) is much better characterised by labels like progressive metal and even brutal prog. Or, perhaps having one album produced by Steve Albini ("Pretest") is enough to be considered a "math rock band" forever…

In any case, Dysrhythmia are a band that put equal emphasis on all three components of their power trio, and their music is perhaps most unique due to the harmonic and melodic sensibilities of guitarist Kevin Hufnagel (and later,

bass guitarist Colin Marston). Arrangement-wise,

Dysrhythmia's music often sees Hufnagel's guitarwork floating fairly freely, playing in counterpoint to the

bass guitar and allowing the
bass guitar
to have a very clear voice in the music. Their music also sometimes features

precomposed solos, betraying the influence of progressive rock/metal. And, of course, the song structures at play in Dysrhythmia's music are complex, often simultaneously appearing to be both through-composed and formal. At this point, their musical output to date is well-known and well-respected enough to make them behemoths of instrumental experimental rock.

As an interesting sidenote, their latest release as of this writing ("Terminal Threshold") is somewhat of a non-sequitur to the works leading up to it. This album alone has lead to the band being tagged here with "technical thrash metal" (tech thrash). "Terminal Threshold" owes much more influence to classic Texan tech thrash outfit Watchtower than previous Dysrhythmia efforts (although, cf. Watchtower guitarist Ron Jarzombek's instrumental project, Blotted Science). The bass guitar is much less present here than in previous works, and the compositions are much more compact (the longest cut clocking in at just ). Even the approach to audio production is different — still as slick and steeped in modern techniques as "The Veil Of Control", but with a more classic-sounding focus on lows and low-mids (and thus apparently quieter sound).
notes on the distributions
The recordings of "Annihilation II" and "Annihilation I" that appear on Dysrhythmia's split with XthoughtstreamsX are different from those that appear on "Pretest".
The recording of "And Just Go" that appears on Dysrhythmia's split with Technician is different from the one that appears on "Pretest".
The final track on "Pretest" ("An Ally To Comprehension") is a Japan-only bonus track. A re-recording of this tune appears on "Barriers and Passages". The deadseapianorolls distribution for "Pretest" includes only this track.
The final track on "Barriers and Passages" ("Void") is a Japan-only bonus track. The deadseapianorolls distribution for "Barriers and Passages" includes only this track.
Dysrhythmia discography
title
Contradiction
No Interference
[split] Dysrhythmia / XthoughtstreamsX
[split] Technician / Dysrhythmia
Pretest
Live from the Relapse Contamination Festival
Barriers and Passages
[split] Fractures
Psychic Maps
Test of Submission
The Veil Of Control
Terminal Threshold
cover art

other art
year
tracklist

1

Ladder

2

Side Walk

3

Burning Cinders In A Freefall

4

Rotary

5

Polytrip

6

Lost In Disguise

7

Yes, It's Kind Of An Oxymoron

8

Earthquake
total duration

1

Body Destroyed, Brain Intact

2

Craving for Transformation

3

No Interference

4

Circulatory System Overhaul

5

Let You Fall

6

Orbiting

7

Nutritional Facelift

8

Slumlord

9

We Lead the Way

10

Psychic Desolation

11

Four, Five, Six Minutes Late
total duration

1

Dysrhythmia — Annihilation II

2

Dysrhythmia — Annihilation I

3

XthoughtstreamsX — Insert

4

XthoughtstreamsX — Woodshed Grind

5

XthoughtstreamsX — Hardcore, Indie, Pop

6

XthoughtstreamsX — Something I Know
total duration

1

Technician — How To Win The West

2

Dysrhythmia — And Just Go
total duration

1

Bastard

2

My Relationship

3

And Just Go

4

Heat Sink

5

Running Shoe Of Justice

6

Annihilation II

7

Annihilation I

8

Catalog Of Personal Faults

9

Touch Benediction

10

An Ally To Comprehension
total duration

1

Bastard

2

My Relationship

3

And Just Go

4

Annihilation I

5

Catalog of Personal Faults
total duration

1

Pulsar

2

Appeared At First

3

Bypass The Solenoid

4

An Ally To Comprehension

5

Seal/Breaker/Void

6

Kamma Nyama

7

Sleep Decayer

8

Bus: Terminal

9

Luminous

10

Will The Spirit Prevail?

11

Void
total duration

1

Dysrhythmia — Earthquake

2

Rothko — Tell Your Story To The Winds

3

Rothko — Torch
total duration

1

Festival of Popular Delusions

2

Triangular Stare

3

Reactionary

4

Room of Vertigo

5

Iron Cathedral

6

Lifted by Skin
total duration

1

In Secrecy

2

Test of Submission

3

The Line Always Snaps

4

Running Towards the End

5

In the Spirit of Catastrophe

6

The Madness of Three

7

Like Chameleons

8

In Consequence
total duration

1

The Veil Of Control

2

Internal / Eternal

3

Black Memory

4

Selective Abstraction

5

Severed and Whole

6

When Whens End
total duration

1

Nuclear Twilight

2

Power Symmetry

3

Plague Delay

4

Progressive Entrapment

5

Twin Stalkers

6

Rule of the Mountain

7

Never Was Then Again

8

Premonition Error
total duration

distributions
None! Do you have one?
None! Do you have one?

| dspr? | format | source | gratis? | URLs |
| --- | --- | --- | --- | --- |
| no | FLAC | bandcamp | no | |