Ent
Posted on:
Last edited on:
lifespan
–
genres
located in
Sacramento, California, United States
related artists

Hella
Carson McWhirter
The Advantage
Holy Smokes
House of Honour

members

Carson McWhirter

:

guitar
Warr guitar
keyboards

Ian Hill

:

Scott Scheu

:

Dustin Koupal

:

associated labels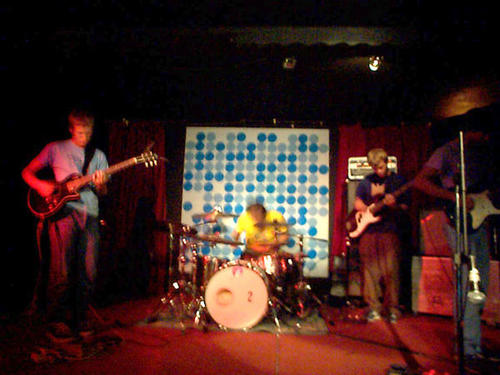 Ent was an early 21st-century American math rock band that, although largely unknown to this day, was one of the first bands (alongside, for example, Pittsburgh natives Don Caballero) to expound the often-instrumental 21st-century style of math rock, focusing on integrating intricate clean (as opposed to distorted) guitar and bass guitar grooves into the ultimately post-hardcore origins of the genre. Ent was also an early band in the 2000's Sacramento math rock scene, which includes other classic math rock bands such as Hella, Dilute, and Tera Melos.
Although Ent remains somewhat obscure, their music is nothing short of superb. I highly recommend their self-titled album, and also checking out Carson McWhirter's later works (both solo and with other groups).
Ian Hill is not to be confused with Zach Hill, another drummer from the same scene.
notes on the distributions
"Ent" was ripped from YouTube videos, using youtube-dl -x to rip the highest-quality audio possible.
The other releases besides the self-titled are due to an anonymous Reddit user (archived), who uploaded any and all record of Ent that they had.
All releases besides the two "official" releases are bundled as a single distribution, for convenience.
The track listed last in the "[collected]" entry was included as part of the original Reddit distribution, but is probably not actually related to Ent. It appears to actually be by a different Sacramento band called Samus Aran, included on a 2000 compilation of Sacramento rock bands entitled "Rock Out With Your Sac Out" (archived), distributed by Joda Records.
Ent discography
title
Ent
Farewell Metropolis b/w Underwater
[collected]
cover art

other art
year
tracklist

1

Biplane Hates Monoplane

2

Polywog

3

Underwater They Looked Like Spaceships

4

Archelon Was The Largest Sea Turtle

5

Leftover Starfighter
total duration

1

Farewell Metropolis

2

Underwater
total duration

1

Ent vs. Piper Cub

2

Damsel Ipis

3

Megaman

4

Song About

5

Introduction

6

Leftover Starfighter

7

Polywog

8

Biplane Hates Monoplane

9

Magnetic vs Crystal

10

Archelon Was The Largest Sea Turtle

11

Offshore McGuyver

12

Underwater

13

Jaques Jam

14

Farewell Metropolis

15

Finished

16

Whereabear

17

Archelon Was The Largest Sea Turtle

18

Underwater

19

Song About

20

Megaman

21

Farewell Metropolis

22

Samus Aran — Avant Gordon
total duration

distributions