June of 44
Posted on:
other names

June Of 44
June of '44
June Of '44
Jo44
JO44

lifespan
–
genres
located in
Louisville, Kentucky, United States
related artists

HiM
Rodan
Lungfish
Codeine
Shipping News
Rex
The Crownhate Ruin
Hoover
The Sonora Pine
Activities of Dust
Directions
Mice Parade
Out in Worship
Vineland
The Letter E
Abilene
Everlasting the Way
Enablers
Loftus
King G and the J Crew
Just a Fire
The Boom
freddie t. and the people
Boondoggle

members

Jeff Mueller

:

Doug Scharin

:

Sean Meadows

:

Fred Erskine

:

bass guitar
trumpet
secondary vocals

associated labels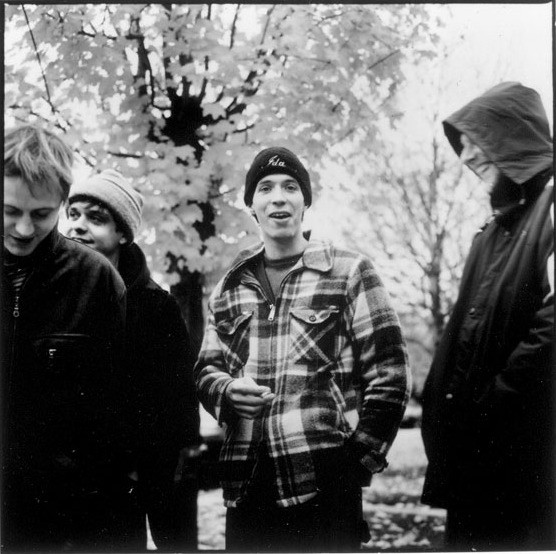 June of 44 was (and more recently, is) a post-hardcore band (usually thought of as math rock, but also responsible for early post-rock and dipping into a variety of other genres) formed in Louisville in . June of 44's music has humourously been referred to as "boat rock" because of the nautical textual and visual themes that they used (particularly in their first three albums). June of 44 formed out of the breakup of guitarist and vocalist Jeff Mueller's previous band, the legendary math rock outfit Rodan. The four members of June of 44 have all been part of other notable acts, usually in the realm of experimental rock and post-hardcore, e.g. HiM, Shipping News, Codeine, Lungfish, Hoover, and The Crownhate Ruin. June of 44 played some reunion shows in , and are releasing an album (mostly of reworked old songs) . June of 44 are remembered for being classic math rockers and post-rockers, and having a broad sonic palette that further expanded what the Louisville post-hardcore scene could sound like.

June of 44 started off their recording career with the LP, "Engine Takes to the Water". This album has been criticised for apeing their Louisville math rock/post-rock predecessors, Slint (particularly, of course, "Spiderland" ()). Indeed, June of 44's career lives in the shadow of "Spiderland", but comparing them to Slint (or even calling them a "Slint rip-off"!) is certainly unfair — although tempting, due to "Spiderland"'s significance as one of the more well-known albums of all time. Yes, "Engine Takes to the Water" does borrow stylistic quirks of "Spiderland" (particularly in the first track, "Have a Safe Trip, Dear"), like tense and angular guitar-driven buildups with spoken vocals that explode into post-hardcore yelping and distorted guitars. But even "Engine Takes to the Water" has more to offer — unlike "Spiderland", fans of post-rock will have a hard time calling "Engine Takes to the Water" "a post-rock record". "Engine Takes to the Water" settles into much more

punk grooves, with several of the songs largely chucking
post-rock
out of the window in favor of a more straightforward post-hardcore or
math rock
. Perhaps

more importantly, not all of June of 44's discography has to live in this shadow — by their third album, the "The Anatomy of Sharks", June of 44 had established their own sound. "The Anatomy of Sharks" would lead to a full-length record, the "Four Great Points", which expanded June of 44's sound to include prominent trumpet playing from the band's bass guitarist, Fred Erskine, as well as violin and synthesizers. June of 44's sound was now more recognizably s post-rock, becoming eclectic and pulling influence from electronic music and jazz fusion, while still retaining its math rock origins. The "Anahata" would intensify these other influences considerably, removing any straightforward punk attitude in favor of repetitive and pulsing drums & bass guitar grooves that entertain an aesthetic somewhere between indie rock/slowcore, jazz fusion, and the post-rock of their Chicago contemporaries Tortoise (Tortoise founding member Bundy K. Brown was even a guest musician on previous album "Four Great Points"). This removal of almost all post-hardcore influence has made "Anahata" a polarising album, with many who were June of 44 fans up to that point disliking the album.
notes on the distributions
"In the Fishtank 6" is sometimes listed as simply "In the Fishtank".
June of 44 discography
title
Engine Takes to the Water
Tropics and Meridians
The Anatomy of Sharks
Four Great Points
Anahata
In the Fishtank 6
Revisionist: Adaptations & Future Histories In The Time Of Love And Survival
cover art

other art
year
tracklist

1

Have a Safe Trip, Dear

2

June Miller

3

Pale Horse Sailor

4

Mindel

5

I Get My Kicks for You

6

Mooch

7

Take It With a Grain of Salt

8

Sink is Busted
total duration

1

Anisette

2

Lusitania

3

Lawn Bowler

4

June Leaf

5

Arms Over Arteries

6

Sanctioned in a Birdcage
total duration

1

Sharks & Sailors

2

Boom

3

Seemingly Endless Steamer
total duration

1

Of Information & Belief

2

The Dexterity of Luck

3

Cut Your Face

4

Doomsday

5

Does Your Heart Beat Slower

6

Lifted Bells

7

Shadow Pugilist

8

Air #17
total duration

1

Wear Two Eyes (Boom)

2

Escape of the Levitational Trapeze Artist

3

Cardiac Atlas

4

Equators to Bi-Polar

5

Recorded Syntax

6

Southeast of Boston

7

Five Bucks in My Pocket

8

Peel Away Velleity
total duration

1

Pregenerate

2

Generate

3

Henry's Revenge

4

Modern Hereditary Dance Steps

5

Every Free Day a Good Day

6

Degenerate
total duration

1

A Chance to Cure is a Chance to Cut Your Face (MATMOS REMIX)
???

2

ReRecorded Syntax
???

3

Cardiac Atlas
???

4

Post-Modern Hereditary Dance Steps
???

5

A Past to Face (JOHN McENTIRE REMIX)
???

6

No Escape, Levitate
???

7

Generate
???

8

Paint Your Face
???
total duration
???

distributions