Kiss It Goodbye
Posted on:
Last edited on:
lifespan
–
genres
located in
Seattle, Washington, United States
related artists

Deadguy
Rorschach
Playing Enemy
Ambush
Shai Hulud
Die 116
No Escape
Nineironspitfire
Undertow
Bitter Branches
Process Black
Spacebag
The Arid Sea
Akimbo
Hemingway
Nothing Left
The Action Suits
Saidchild
Shining Ones
Hitler
Hunger
Dempsey
Great Falls

members

Tim Singer

:

Tom Rusnak

:

Andrew Gormley

:

Keith Huckins

: ( – )

Demian Johnston

: ( – )

Eric Cooper

: ( – )

associated labels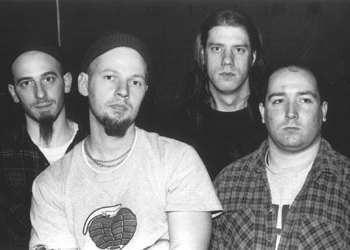 Kiss It Goodbye was a metalcore/mathcore band from Seattle that formed in out of the ashes of Rorschach and the departure of vocalist Tim Singer and guitarist Keith Huckins from Deadguy. Both Rorschach and Deadguy were New Jersey metalcore acts, but upon Singer & Huckins's departure from Deadguy, they moved to Seattle to start a band with former Rorschach members Andrew Gormley (drums) and Tom Rusnak (bass guitar). Huckins was also a former Rorschach member. Some time before the recording of the first three tracks on "Choke" (but after the recording of the "Target Practice b/w Preacher" single), Huckins left the band and was replaced by Demian Johnston, who had recently done a split with legendary Tacoma, Washington mathcore outfit Botch as part of his band Nineironspitfire. The first three tracks of "Choke" were recorded with Johnston in , but Tim Singer left the band and thus Kiss It Goodbye was dissolved. "Choke" was released as an EP. Johnston, Gormley, and Rusnak would all go on to form another mathcore outfit by the name of Playing Enemy.
Musically, any fans of Rorschach and/or Deadguy will, naturally enough, love Kiss It Goodbye. Kiss It Goodbye mixes the kind of "metallic hardcore" songwriting and arrangements of early metalcore with the trademark pissed-off and melodramatic yelling of Tim Singer, and with some of the chaotic twists and turns of early mathcore, to boot. Unfortunately, their only full-length, "She Loves Me, She Loves Me Not…" has (in my opinion) rather lackluster mastering. Fortunately, "Choke" — and "Fixation on a Coworker", for that matter — were mastered by Alan Douches, and as a result sound pretty snappy.
notes on the distributions
"Be Afraid" was a cassette demo.
"Choke" was released posthumously, and features both tracks from their earlier "Target Practice b/w Preacher" single. For that reason, the single is not represented in the discography below.
Kiss It Goodbye discography
title
Be Afraid
She Loves Me, She Loves Me Not…
Choke
cover art

other art
year
tracklist

1

Manthing

2

Afterschool Special

3

Target Practice

4

Hartley
total duration

1

Helvetica

2

Hartley

3

Fire Drill

4

What If

5

We'll Burn That Bridge When We Get To It

6

Ammunition

7

Man Thing

8

Sick Day

9

Put Your Head Down And Run
total duration

1

Choke

2

Cement

3

Watching Hellraiser

4

Preacher

5

Target Practice
total duration

distributions