Loma Prieta
Posted on:
Last edited on:
lifespan
– present
genres
located in
San Francisco, California, United States
related artists

Sailboats
Stormlight
Elle
Beau Navire
Punch
Us, Haunted Bodies
Get Get Go
COMA
Living Eyes
Casey Jones

members

Sean Leary

:

Valeriano Saucedo

:

Brian Kanagaki

:

guitar
secondary vocals
bass guitar

( – present)

James Siboni

: ( – present)

David Fung

: ( – )

Derrick Chao

: ( – )

Jake Spek

: (? – )

associated labels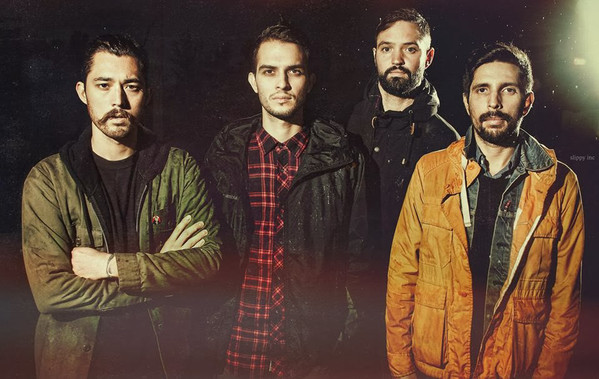 Loma Prieta is a screamo/emoviolence band from San Francisco, formed in . Loma Prieta formed out of a previous band by the name of Sailboats, who only ever released a demo (in ), and then mysteriously broke up; Loma Prieta have been known to cover Sailboats' "Behind Trees" when playing live. The band released their demo in , and from then on, released an impressive amount of material, even touring Europe in the summer of in support of their LP by the name of "Last City", which remains one of their most revered works. Most of their material has been released through Discos Huelga, which is run by drummer Valeriano Saucedo, although they are now signed to Deathwish.
Starting with their LP, "Dark Mountain", Loma Prieta began working with Comadre and Everybody Row guitarist Jack Shirley (although the mixing was done by Ian and Jay Pellicci), who runs The Atomic Garden recording studios in Oakland (perhaps now best known for producing San Francisco blackgaze outfit Deafheaven's breakthrough record, "Sunbather"). Jack Shirley then also recorded (and was a guest performer on) Loma Prieta's next LP, "Life/Less", and all of their records after that (including the very next record, and perhaps their most well-known, "I.V.") have been fully produced by Shirley. Loma Prieta shares members with numerous other hardcore acts, perhaps most notably Punch (with whom they did a split single), Elle, and Beau Navire. As stated on their bandcamp page: "Loma Prieta have been a mainstay of the Bay Area hardcore community for more than ." Perhaps that statement can now be extended to "more than ".
The timespans listed here for the band's members are somewhat guesswork, with the exception of the two constant members, Sean Leary and Valeriano Saucedo.
Loma Prieta's music started out in a relatively modest emoviolence vein; while quite a bit of their early material is very good, it lacks the maturity that they would display on "Last City" and onwards. It is this more mature material that has earned Loma Prieta a place in the screamo pantheon, with its unique sound and incredible energy. Some of the hallmarks of Loma Prieta's sound include:
Incredibly noisy sound, including desperate-sounding screamed (and often distorted) vocals — Loma Prieta are almost impossibly loud, incoporating clipping artifacts as part of their sound.
Incorporation of strong melodies into the powerviolence/emoviolence framework, even sometimes to the point of being catchy.
Difficult song structures and stop-start dynamics, including the intricate rhythms and time signature abuses that are characteristic of certain styles of emoviolence, as exemplified by bands like Ampere and Hassan I Sabbah.
notes on the distributions
All three tunes on the "Demo" appear, re-recorded, on "Our LP Is Your EP". This demo was released on a business-card-shaped CD-R.
The deadseapianorolls distribution of "The Emo Apocalypse" listed here only includes Loma Prieta's contribution.
The split record between Mexico City emoviolence outfit Arse Moreira and Loma Prieta was never released, and also might not have even been planned to be a split record(?)
The first track off of "Last City" ("Worn Path") is occasionally erroneously listed as "Warn Path".
The split record between Loma Prieta and Rockingham County, New Hampshire screamo outfit l'antietam is similarly dubious to the split with Arse Moreira. Information about l'antietam's side of the split is scarce, and they may not have ever recorded it. The inclusion of one of l'antietam's tracks on the listing (but not in the distribution) is a reflection of this YouTube video, which has a description that reads: "L'Antietam in Portland, Oregon. This song is off the split w/ Loma Prieta. Filmed by Alex Gaziano. July 2008."
The deadseapianorolls distribution of "Discography 05-09" only includes "The Needle In The Haystack (Unreleased Version)", "The Needle In The Haystack", and "Running Over A Community Service Worker (Get Get Go cover)", as all the other tracks are from other releases.
The Japanese release of "I.V.", due to Daymare Recordings, has a bonus track at the end that is just Loma Prieta's side of the split with fellow San Franciscan hardcore punks Punch (the track itself being a cover of one of Punch's tunes).
Loma Prieta discography
title
[demo]
Our LP Is Your EP
[V/A] The Emo Apocalypse
[split] Arse Moreira / Loma Prieta
Matrimony
Last City
[split] Loma Prieta / l'antietam
Dark Mountain
Discography 05-09
Life/Less
[split] Punch / Loma Prieta
I.V.
[split] Loma Prieta / Raein
Love b/w Trilogy 0 (Debris)
Self Portrait
Continuum b/w Fate
cover art

other art
year
tracklist

1

Scream Triathlon

2

Welcome To Spring Break 1989

3

I Have A Fear Of Young Asian Boys
total duration

1

I Have A Fear Of Young Asian Boys

2

It Went Down Like On An Episode Of Law And Order

3

Scream Triathlon

4

Welcome To Spring Break 1989

5

With A Moment Of Silence All Was Lost
total duration

1

Cease Upon The Capitol — Intro/Cell
???

2

Khere — Vendetta
???

3

Loma Prieta — [untitled]

4

D'Amore — Disenchantment
???

5

Her Breath On Glass — [untitled]
???

6

The Birds Are Spies, They Report To The Trees — [untitled]
???

7

Kias Fansuri — [untitled]
???

8

June Paik — Himmelfahrt
???

9

Enoch Ardon — Basmati
???

10

Cagliostro — [untitled]
???

11

Louise Cyphre — No Tears!.....
???

12

Trainwreck — You Can't Fake The Funk
???

13

Architects — [untitled]
???

14

a fine boat, that coffin! — [untitled]
???

15

Ten And Two — Small Town
???

16

The Walls You've Built — [untitled]
???

17

Balboa — FEMA DeControl
???

18

Only For The Sake Of Aching — [untitled]
???

19

Belle Époque — Parenthèse
???

20

Catena Collapse — Locked Groove
???

21

The Critic — Elevators
???

22

Manhattan Skyline — [untitled]
???

23

Am I Dead Yet — [untitled]
???

24

Petethepiratesquid — [untitled]
???

25

Allegory Of The Cave — I Am Not Zee Hero
???

26

Antithesis — You Make My Heart Sing. A Funeral March
???

27

Towers — [untitled]
???

28

Funeral Diner — Addendum
???

29

I Spoke — Is Dead
???

30

Escapado — SyndromSymptom Aka Nagel Vs. Willi Manilli
???

31

Violent Breakfast — Muro
???

32

Monocycle — 05

33

Arse Moreira — Memories Of January
???

34

Pyramids — Pyramids
???

35

Suis La Lune — As Concrete Replaces Hope
???

36

Kurhaus — Punk Needs Capitalism Like Holmes Needed Moriarty
???

37

Orbit Cinta Benjamin — [untitled]
???

38

A Day In Black And White — [untitled]
???

39

SL-27 — I Don't Care
???

40

Mr. Willis Of Ohio — Allein
???

41

Van Cosel — Joey Ride Bikes. Is This What You Expected?
???
total duration
???

1

Arse Moreira — [untitled]

2

Arse Moreira — [untitled]

3

Loma Prieta — [untitled]

4

Loma Prieta — [untitled]
total duration

1

We're Wedded Wrong All Along

2

Wilmer Valderrama (Henry Wadsworth Longfellow Had 2 Wives)
total duration

1

Worn Path

2

Careful Subliminal

3

Trilogy I "Sick Cities"

4

Trilogy II "Planar Analysis"

5

Trilogy III "Fall Days"

6

Armor

7

Bridges

8

David Fung

9

Script

10

Last City
total duration

1

Loma Prieta — Tentatively Titled 666

2

Loma Prieta — 6666

3

l'antietam — 24th and Valencia
total duration
???

1

Exit Here

2

Vermillion River

3

King Xing

4

Carelessnessness

5

Ghost Shadow

6

Punxx'nup

7

Arc

8

Surrounding
total duration

1

Tenatively Titled 666

2

6666

3

Worn Path

4

Careful Subliminal

5

Trilogy I

6

Trilogy II

7

Trilogy III

8

Bridges

9

Armor

10

Script

11

David Fung

12

Last City

13

We're Wedded Wrong All Along

14

Wilmer Valderrama

15

The Needle In The Haystack (Unreleased Version)

16

With A Moment Of Silence All Was Lost

17

Welcome To Spring Break 1989

18

The Needle In The Haystack

19

It All Went Down Like An Episode Of Law And Order

20

Scream Triathlon

21

Running Over A Community Service Worker (Get Get Go cover)

22

I Have A Fear Of Young Asian Boys

23

Scream Triathlon

24

Welcome To Spring Break 1989

25

I Have A Fear Of Young Asian Boys
total duration

1

Useless Limbs

2

Silhouettes

3

Dark Mtn.

4

Nothing Left

5

Closenessless

6

Lost Bridge

7

No Friends

8

Our Condition

9

Two Voices

10

Apparition
total duration

1

Punch — Worn Path [Loma Prieta cover]

2

Loma Prieta — Don't Start [Punch cover]
total duration

1

Fly By Night

2

Torn Portrait

3

Reproductive

4

Trilogy 4 "Momentary"

5

Trilogy 5 "Half Cross"

6

Trilogy 6 "Forgetting"

7

Untitled

8

Uniform

9

Uselessness

10

Aside From This Distant Shadow, There Is Nothing Left

11

Biography

12

Diamond Tooth

13

Don't Start
total duration

1

Loma Prieta — Immemorial

2

Loma Prieta — Poverty Map

3

Loma Prieta — Mansion Fire

4

Loma Prieta — Spray Paint

5

Raein — Love and Death
total duration

1

Love

2

Trilogy 0 (Debris)
total duration

1

Love

2

Black Square

3

Roadside Cross

4

Net Gain

5

More Perfect

6

Nostalgia

7

Never Remember

8

Merciless

9

Rings

10

Satellite
total duration

1

Continuum

2

Fate
total duration

distributions