Off Minor
Posted on:
lifespan
–
genres
located in
New York City, New York, United States
related artists

Saetia
Hot Cross
lytic
Olde Ghost
Guns Don't Run
Coercion
Yo Man Go!
Lie Detecting Coffins
Total Fucking Destruction
Aim Of Conrad
Books Lie
Amateur Party
None But Equals
War Emblem
Ordinary Lives
Crossed Keys
Bore War
xanax

members

Jamie Behar

:

Steve Roche

:

Kevin Roche

: ( – )

Matt Smith

: ( – )

associated labels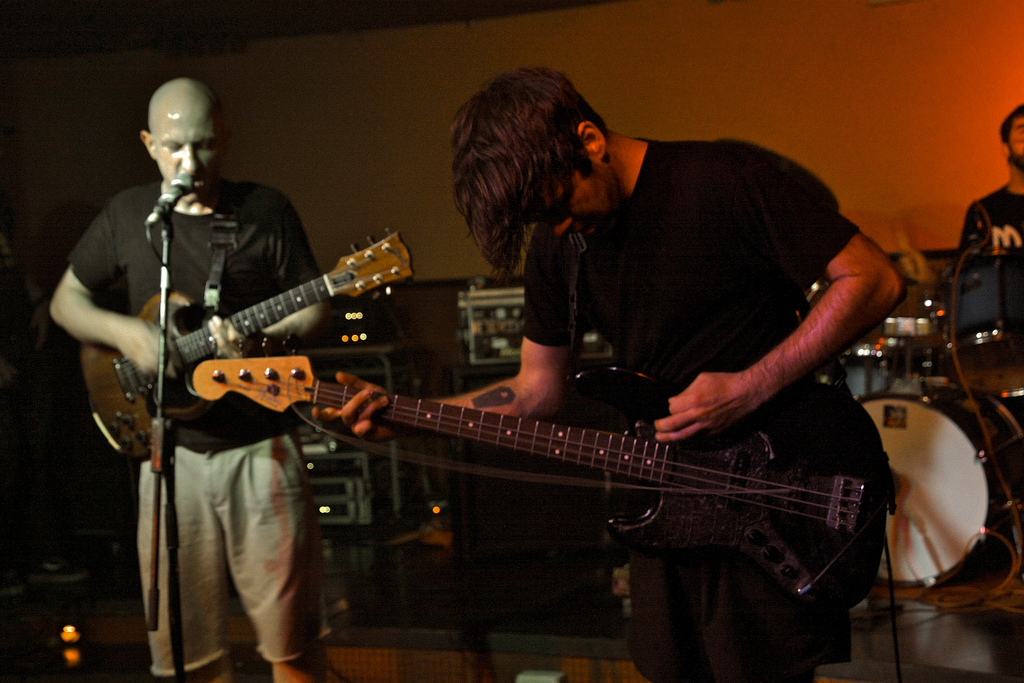 Off Minor (named for the Thelonious Monk composition) was one of two major bands that formed in the wake of Saetia's demise. The other such band was Hot Cross; the original bassist of Off Minor, Matt Smith, left Off Minor to play in Hot Cross. Drummer Steve Roche's brother, Kevin Roche, replaced Smith and this solidified the Off Minor lineup. Hopefully I don't have to specify who Saetia were; if you're not familiar, just enter "screamo" into your search engine of choice and you'll find them very quickly. Off Minor, like Saetia, were an NYC-based band. Also like Saetia, Off Minor are behemoths of the genre, and "The Heat Death Of The Universe" (alongside their other albums) is considered one of the finest screamo records ever produced.

While Saetia already had their own share of math rock and jazz punk influences — after all, they too were named for a jazz composition — Off Minor took these influences in a more saturated form and brought them to new heights. Playing as a power trio, the music of Off Minor is instrumentally equal parts bass guitar,

guitar, and
    title="H&ndash;S211.212.21+111.142+111.24">drums</data></pre>, rather than focusing on

any particular instrument(s). Their music delicately weaves these instruments together, often producing outright counterpoint, but within the context of screamo. The influence of math rock is manifest in the intricate part-writing, rhythms, complex time signatures, &c.; the influence of jazz punk is manifest in the harmonic palette, phrasing, and occasional use of improvisation.
notes on the distributions
The first release listed here ("Off Minor / i am the Resurrection") includes not just the original split record (the first 13 tracks), but also the live bonus tracks from the self-titled(?) reissue of Off Minor's side of the split.
The dspr distribution of "Off Minor / Ampere" only contains Off Minor's side of the split. For Ampere's side, check out the third track of the compilation listed in the other distribution.
Off Minor discography
title
[split] Off Minor / i am the Resurrection
The Heat Death Of The Universe
[split] Off Minor / St. Albans Kids
Innominate
[split] Off Minor / My Disco
[split] Off Minor / Ampere
[split] Off Minor / killie
Some Blood
cover art

other art
year
tracklist

1

Off Minor — Problematic Courtship

2

Off Minor — My Recovery

3

Off Minor — Farewell Ne'er Do Well

4

Off Minor — Willow Weep For Me

5

Off Minor — Remainder

6

Off Minor — Perfect Strangers

7

i am the Resurrection — Gauges

8

i am the Resurrection — Spliced Film Smiles

9

i am the Resurrection — This New Broom Sweeps Clean

10

i am the Resurrection — Short, Fast, And Oh So Stylish

11

i am the Resurrection — Came Home Pushed And Full Of Pins

12

i am the Resurrection — The New Apostles

13

i am the Resurrection — The Fall And Rise Of Cameron Hodge

14

Off Minor — A Transient (Live)

15

Off Minor — Problematic Courtship (Live)

16

Off Minor — Farewell Ne'er Do Well (Live)

17

Off Minor — Perfect Strangers (Live)
total duration

1

The Heat Death Of The Universe

2

This Is A Hostage Situation

3

It's A Beauty

4

Punch For Punch

5

The Transient

6

Staring Down The Barrel Of Limited Options

7

Spartan

8

Monday Morning Quarterbacks

9

Off Minor
total duration

1

Off Minor — In SL

2

Off Minor — My Father's Dreams [Articles Of Faith cover]

3

St. Albans Kids — Dissthentic Penetration [Huggy Bear cover]

4

St. Albans Kids — When We Are Just Days Away From Illiteracy
total duration

1

Cadaveric

2

Killed For Less

3

Inadequate In Absence Of You

4

Demolition Heuristic

5

In SL

6

Devil Ether

7

Allele

8

Family Circus

9

Staring Down The Barrel Of Limited Options
total duration

1

Off Minor — Some Clown

2

My Disco — Troubled Receiver
total duration

1

Off Minor — Abattoir

2

Ampere — Conquest Success
total duration

1

Off Minor — Some Clown

2

Off Minor — Abbatoir

3

Off Minor — Everything Explicit

4

killie — 体脂肪と戦う

5

killie — 脳死が俺の側に
total duration

1

Neologist

2

Some Blood

3

Everything Explicit

4

To Anex

5

No Conversationalist I

6

Practice Absence
total duration

distributions

| dspr? | format | source | gratis? | URLs |
| --- | --- | --- | --- | --- |
| no | FLAC @ 44.1kHz & 16bit | bandcamp | no | |

| dspr? | format | source | gratis? | URLs |
| --- | --- | --- | --- | --- |
| no | FLAC @ 44.1kHz & 16bit | bandcamp | no | |