Oriin
Posted on:
other names
lifespan
–
genres
located in
Rio Grande Valley, Texas, United States
related artists

Holokaust
Alternate System

members

Joey Barrera

:

Bobby Barrera

:

Art Hurtado

:

Daniel Gonzalez

: ( – ?)

Adrian

:

Larry

:

associated labels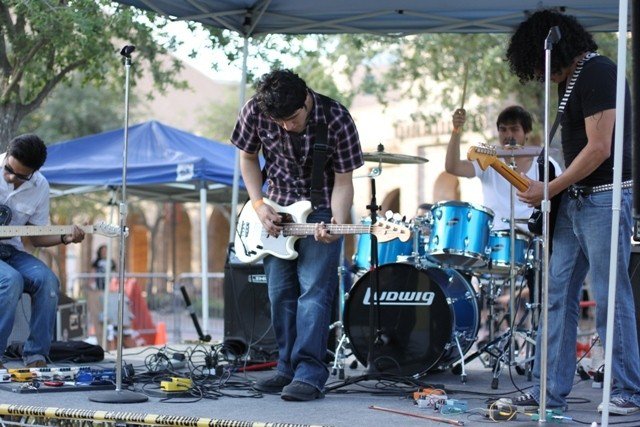 Oriin (perhaps Finnish for "stallion(s)" or "thorns"?) was an instrumental post-rock band from the Rio Grande Valley region of Texas. Although their sound is reminiscent of the archetypical "post-rock" band (c.f. fellow Texans Explosions in the Sky and This Will Destroy You), the music of Oriin is committed to an ethereal, reverb-drenched, almost meditative sound — even in the more "intense" bits. Indeed, the writing and arrangements of Oriin's music are uncomplicated — occasionally to the point of minimalism — and the music is largely tranquil, thus making them more similar in some ways to fellow labelmates the tumbled sea; for this reason they are here tagged with the "ambient" genre (despite having a drummer as a core member of the band).

Oriin only ever released a single record: the LP "all.things.are.numbers.", released on the futurerecordings label. futurerecordings was a label started by Adam Nanaa of the highly influential early-1990s post-hardcore band Indian Summer. Sometime in , futurerecordings's bandcamp and Facebook pages (among other things) were deleted.

The exact status of the fourth member of Oriin is unclear. According to their Last.fm page, the band's original lineup had Daniel Gonzalez on bass guitar. Discogs claims that Gonzalez was still the band's bassist at the time of recording their LP. RateYourMusic lists "Adrian" as the bassist &

violinist of the band. Their Facebook page lists

"Larry" as the bassist of the band.
notes on the distributions
"all.things.are.numbers." is also sometimes known as "All. Things. Are. Numbers." and/or "All Things Are Numbers"; here we use the spelling preferred by futurerecordings's bandcamp page.
Oriin discography
title
all.things.are.numbers.
cover art

year
tracklist

1

Costilla

2

Into the valley

3

We will rebuild

4

Beyond the great valley

5

We will live forever Part I

6

We will live forever Part II

7

We will live forever Part III
total duration

distributions