Pecola
Posted on:
Last edited on:
lifespan
–
genres
located in
Greater Toronto Area, Ontario, Canada
related artists

Smallmouth
Picastro
hHead
Soupcans
catl.
Shut-IN
Toronto Homicide Squad
No No Zero
The Exploders
Panic

members

Jamie Fleming

:

Gideon Steinberg

:

Zak Hanna

:

Craig Thompson

:

bass guitar
secondary vocals

associated labels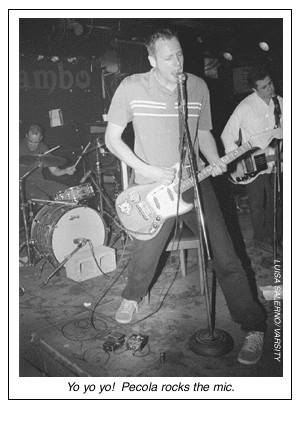 Pecola was a Canadian math rock band active during the last half of the 1990s. Molded somewhat in the style of San Diego, California's Drive Like Jehu (especially considering the vocals, which is a good thing), Pecola took Drive Like Jehu's mathy post-hardcore experimentation and intensified it even further, to excellent results. At one point, Pecola even toured with other illustrious bands such as Polvo and fellow Torontonians Do Make Say Think.
The band is named for the protagonist of Toni Morrison's "The Bluest Eye" (). The name of their EP "Dat Hoang" derives from a Vietnamese phrase roughly equivalent to the English "John Smith".
AllMusic has a biography of this band which you can read here (archived).
notes on the distributions
Pecola's split with Smallmouth is missing from deadseapianorolls so far. As usual, if you can get a copy of this, please contact deadseapianorolls! The distribution of Pecola's self-titled cassette is due to a Discogs user by the name of theorchidshow, and was "[s]hared with the permission of one member of Pecola".
The distribution of "Planet Of Ugly" comes encoded as CBR 224kb/s MP3, but the quality is much lower than you might expect from that. It appears to just be a very poor digitization. Also, the 192kb/s version of "The Mexican" is higher quality than the corresponding 256kb/s version. The 256kb/s version appears to have been re-encoded from some lower-bitrate MP3 (perhaps roughly 160 or even 128kb/s).
Pecola discography
title
Pecola
Planet Of Ugly
Dat Hoang
[split] Pecola / Smallmouth
The Mexican
cover art

other art
year
tracklist

1

Peel
???

2

Bulky Victim
???

3

Finish The Section
???

4

A/C
???

5

Kurst
???

6

Twins
???

7

Little Thoreau
???

8

King Of The Worms
???

9

Bad Fuck
???
total duration
???

1

Port-Channel To Teenage U.S.A.

2

Pierced Xyphoid Process

3

Trephination

4

Incessant Combustion

5

Just Seen
total duration

1

Autostalk

2

Catabasis

3

There Are Chickens in the Alphabet

4

Class XXX License

5

Angered Concession Fallout
total duration

1

Pecola — Satan Exists In The Groins Of All Those Who Walk The Earth
???

2

Smallmouth — Weck
???
total duration
???

1

Live God-Action TV

2

1958 Envelope

3

Worker and Parasite

4

Saturday Matinée

5

Dad's Dick is a Mustang

6

A Simple Man Loves His Car, American Car, American Car

7

Suicide Watch

8

2:47

9

You Left the Fucking Stereo On

10

Late-Inning Closer

11

Sugarcane Is Aspartame

12

Song #3

13

Take My Advice or I'll Spank You Without Pants

14

The Bullets Inside Are Very Hot. Why Do I Feel So Cold?

15

I Am Damn Unsatisfied to Be Killed in This Way!
total duration

distributions

| dspr? | format | source | gratis? | URLs |
| --- | --- | --- | --- | --- |
| no | FLAC @ 44.1kHz & 16bit | theorchidshow [cassette digitization] | yes | |

None! Do you have one?