Rooftops
Posted on:
lifespan
–
genres
located in
Bellingham, Washington, United States
related artists

Detlef
In Praise of Folly
Mt. St. Helens Vietnam Band
Lands Farther East
Snow Cuts Glass
Treasures
Leaves Sleeves

members

Mark Detrick

:

Drew Fitchette

:

guitar
vocals
bass guitar
percussion

Wendelin Wohlgemuth

:

Jonathan McIntyre

:

bass guitar
baritone guitar
guitar
vocals

( – )

associated labels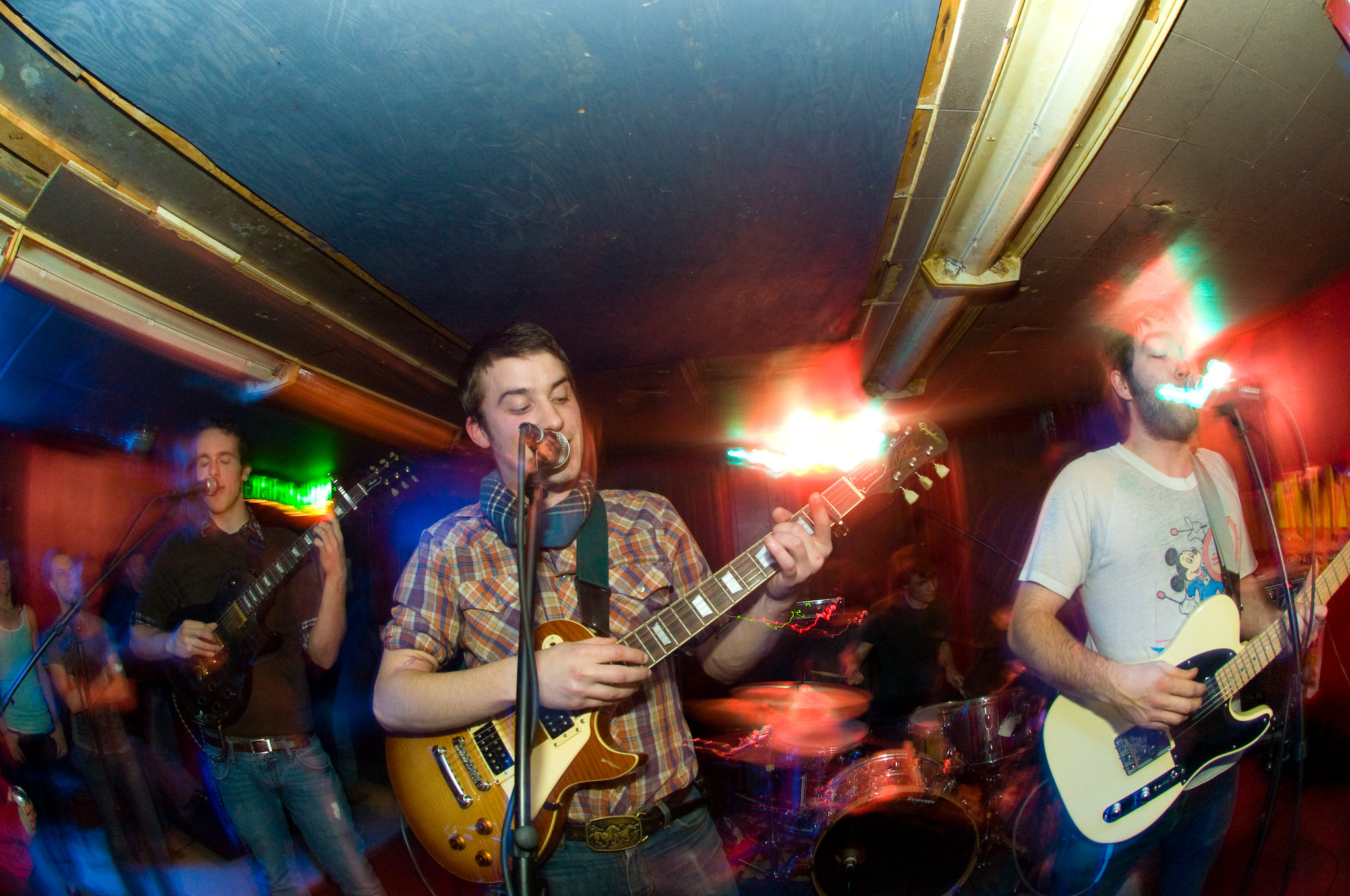 Rooftops was a math rock/post-rock hybrid band from Bellingham, Washington, U.S.A. Although — as far as I know — they only released one proper album (most sources only list this album) and a split, they are fairly well-known for their expertly beautiful combination of elements of math rock, post-rock, and even hints of midwest emo.

Rooftops hailed from Bellingham, Washington, a medium-sized city in between the metro areas of Seattle and Vancouver, B.C. They signed to Clickpop Records, also based in Bellingham, in . This was after releasing their split with noumenon, which presumably was self-released (not on any label). In , Clickpop Records released their debut LP, "A Forest of Polarity", an album whose song titles are all anagrams of one another. , Topshelf Records (re-)issued the LP, which is why some sources erroneously list its release year as

.

Two of the members of Rooftops (Drew Fitchette & Wendelin Wohlgemuth) would go on to form Detlef, another band also in the math rock style.

A series of photos taken at a Rooftops show on

at The Rogue Hero (now defunct),

due to Paul Turpin, can be found here:
notes on the distributions
noumenon's bandcamp used to have an additional compilation release listed, although it can no longer be found. Back when it existed, I downloaded it — unfortunately, the same problem occured here that occured with The Brave Little Abacus. At the time, I downloaded in CBR 320kb/s MP3, so that's all I have here. The compilation included all 4 tracks from the noumenon/Rooftops split, so they are included here.
Rooftops discography
title
[split] noumenon / Rooftops
A Forest of Polarity
cover art

other art
year
tracklist

1

noumenon — Brorags.com, For All Your Bro Rag Needs

2

noumenon — Deans La Deans

3

Rooftops — Robuts

4

Rooftops — Untitled
total duration

1

Fiery Atlas (intro)

2

Astray Life

3

I Fast Early

4

Raft Easily

5

Year as Lift

6

Tear as I Fly

7

A Layer Fits

8

Leafy Stair

9

Era Falsity

10

Sea Frailty
total duration

distributions

| dspr? | format | source | gratis? | URLs |
| --- | --- | --- | --- | --- |
| no | FLAC @ 44.1kHz & 16bit | Topshelf Records | no | |