saleontomorrow
Posted on:
other names
lifespan
–
genres
located in
Norwich, Norfolk, England
related artists

Pennines
TTNG
Darwin & The Dinosaur

members

Henry Tremain

:

David Thorpe

:

bass guitar
secondary vocals

Alan Hiom

:

Daniel Reynolds

:

associated labels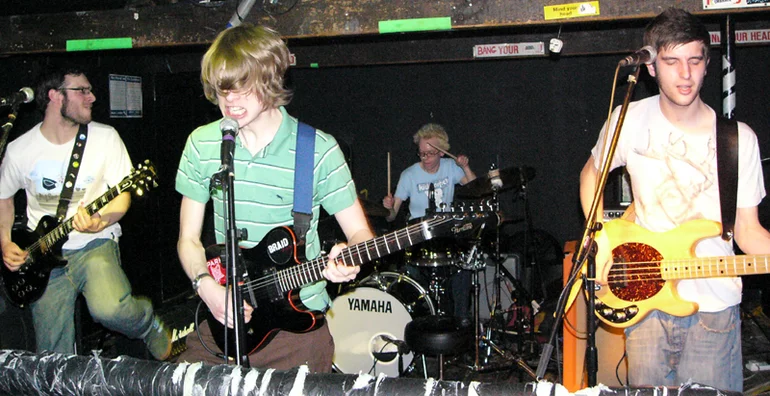 saleontomorrow was an English math rock/math pop band that, along with Colour, prefigured the English math pop scene of the late 2000s and early 2010s. Their sound was somewhat more clearly punk-y (or rather, early-2000s post-hardcore) than Colour's, and is characterized by snaky guitar and bass guitar lines, dynamics that borrow somewhat from post-rock, and Henry Tremain's (now of TTNG) vocal style. Unfortunately, saleontomorrow's career ended prematurely and tragically with the death of bassist David Thorpe in a motorcycling accident (R.I.P.).
What we still have of saleontomorrow's recorded output is unfortunately little and low in fidelity, as it is clear that this band were very precocious, and a fitting forebear of the English math pop scene.
Also worth noting is Pennines, the band that Tremain formed in between saleontomorrow and joining TTNG.
Two photos of the band have been ripped from Last.fm and can be viewed here:
notes on the distributions
Brailing's side of the split with saleontomorrow is not included — indeed, all information about the other side of the split is unknown.
All entries in the discography are tentative, and may be incomplete. Information about the band and their music is scarce.
The distribution for the track "intheunlikelyeventofafire" (the 2nd on the "[demo]") has an effective sample rate of 22.05kHz, and a bitrate of 96kb/s.
saleontomorrow discography
title
[demos]
[split] saleontomorrow / Brailing
cover art

year
tracklist

1

call and response

2

intheunlikelyeventofafire

3

tideoftongueandtoothache

4

feathers
total duration

1

saleontomorrow — if you throw your eyes my way i will catch them

2

saleontomorrow — lip service to friends
total duration

distributions