Storm & Stress
Posted on:
other names

Storm&Stress
storm&stress
Storm and Stress
Stormandstress
stormandstress

lifespan
–
genres
located in
related artists

Don Caballero
Battles
Tanlines
Form and Mess
Talibam!
Mostly Other People Do The Killing
Good Morning
People [Mary Halvorson/Kevin Shea/Kyle Forester]
Puttin' on the Ritz
Restless People
Coptic Light
Sludgehammer
Golan Globus
Sexy Thoughts
Peter Evans Quartet
Get The People
American Liberty League
Chris Pitsiokos Trio
Sweet Banditry

members

Iam Williams

:

Kevin Shea

:

Eric Emm

: (? – )

George Draguns

: ( – ?)

associated labels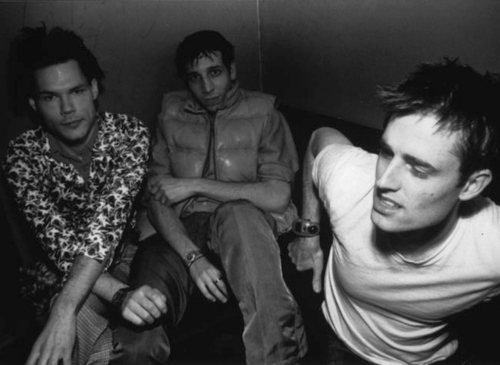 Storm & Stress (often spelled with no spaces and/or with "and" instead of "&") was a math rock/free improvisation hybrid band originally from Pittsburgh, Pennsylvania, although they later relocated to Chicago, Illinois. Storm & Stress are often thought of as a side project of Don Caballero, although the music of Storm & Stress is — while still math rock — quite different from that of Don Caballero. The music of Storm & Stress is largely textural, focusing on the minute sonic details of the guitar, drums, bass guitar, and sparse vocals. While Storm & Stress's music is not the only music to cross between math rock and improvisation (c.f. some Sacramento-scene bands like Hella, Tera Melos, and Dilute, as well as the Japanese band Ruins, and Asheville natives Ahleuchatistas/Lighted Stairs), it is extremely unique in its commitment to free improvisation and its overall sound. Both of Storm & Stress's albums are landmarks of math rock history.
George Draguns originally played bass guitar for the band, but the main lineup was formed when Draguns was replaced by Eric Emm (a.k.a. Eric Ehm or Eric M. Topolsky) on bass guitar. Ian Williams also played guitar in Don Caballero (and still plays in Battles). Kevin Shea is a jazz drummer who has been part of many other groups, most notably Talibam! (and Form and Mess alongside original bassist George Draguns, a clear allusion to Storm & Stress). Eric Emm is one half of the duo The Brothers, a.k.a. Golan Globus.
Also of note are the guests that Storm & Stress featured on their albums. Both albums feature guest performances from Micah Gaugh, and "Under Thunder & Fluorescent Lights" additionally features guest performance from well-known jazz drummer Jim Black.
notes on the distributions
Both albums were originally released by Touch and Go, but are now out of print.
Storm & Stress discography
title
storm&stress
Under Thunder & Fluorescent Lights
cover art

other art
year
tracklist

1

We Write Threnodies. We Write With Explosions

2

Today Is Totally Crashing & Stunned in Bright Lights

3

Dance 'til Record Skips Like Passengers Shift on Take Off

4

Micah Gaugh Sings All Is All

5

Guitar Cabinet Stack Way High Is Freedom or Gravity Gives Us Rhythm

6

Piles of Blinkers Slip for New Years

7

Orange Cone Made No Noise
total duration

1

The Sky's the Ground, the Bombs Are Plants, and We're the Sun, Love

2

An Address That Was to Skip Ahead of the Gallop of Its Own Sperm and Eggs

3

Meet Me in the Space They Stare at Leaving Their Seat During a Show

4

It Takes a Million Years to Become Diamonds So Lets Just Burn Like Coal Until the Sky's Black

5

The 1st Our Lady of Burning Thorns

6

O, When My Lady Comes

7

The 2nd Perpetuate the Beautiful

8

And Third and Youngest, Unnamed

9

Forever, Like Anti-Oxidants (Listen to the Sound Our Cells Make)
total duration

distributions