The Brave Little Abacus
Posted on:
Last edited on:
other names
lifespan
–
genres
located in
Rockingham County, New Hampshire, United States
related artists

Me in Capris
Eggplant Danceoff!
Lilith
Thew

members

Adam Demirjian

:

Zach Onett

:

keyboards
secondary vocals

Andrew Ryan

:

bass guitar
secondary vocals

Nick Morrone

: ( – )

associated labels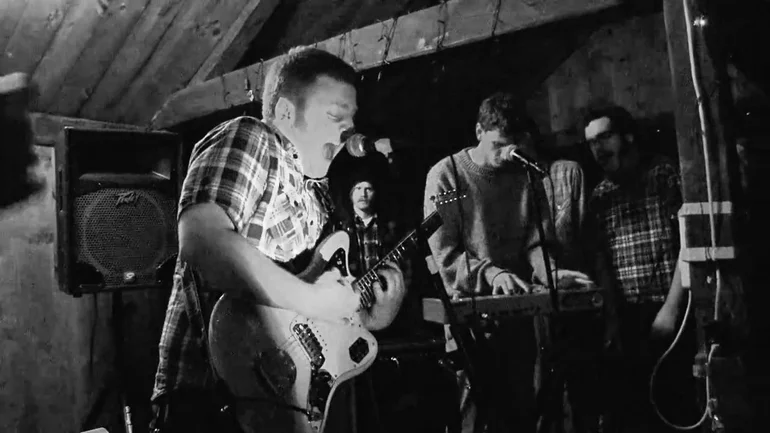 The Brave Little Abacus used to have a bandcamp page — unfortunately, it is long gone, and their music is surprisingly difficult to get your hands on, especially considering the huge underground popularity the band has enjoyed.
tBLA's popularity and positive critical reception is not for no reason: the music of tBLA is very unique, well-composed, intricate, and passionate. The real barrier to entry here is the unfortunately lo-fi production and the vocals. The vocals are superb, but unique enough that it will be a matter of individual taste as to whether you love them or find them annoying. The production, on the other hand — while many among us do enjoy some lo-fi production from time to time — of tBLA's music is honestly deeply unfortunate, because their arrangements, and the wildly varied textures that they make use of, deserve much better treatment so that we could properly hear them in all their glory. tBLA's music has been called "the 'Pet Sounds' of midwest emo", and if that's true, it's only too bad that tBLA could not enjoy the kind of world-class production that The Beach Boys did.
notes on the distributions
Back when their bandcamp page existed, I got a recommendation and I went and downloaded most of their material. For some reason, I did not listen to it for a long time, which was clearly a mistake. The far worse mistake, however, is that I downloaded their music from their bandcamp in 320kb/s MP3 format… This was back before I realized that even CBR 320kb/s MP3 fails to achieve transparency, and before I realized the importance of preserving original copies. Of course, if anyone has the original FLACs from bandcamp or can rip some CDs, that would be much appreciated.
There is also an alternate, lossless version of "Masked Dancers…" that was obtained from Soulseek, supposedly a CD rip. A quick look at a spectrogram shows significant activity at ≥20kHz, suggesting that this version is probably legitimate (viz. that it is not a lossy copy that was re-encoded into FLAC).
A distribution of note is the release of their final album, "Okumay". This was their only release to be on a record label (viz. Quote Unquote Records), and the record label has since released the album gratis on their website, although only as a VBR-0 MP3 copy, unfortunately. Also, it is out of print.
Also included are some live/bootleg recordings, which are to be found on bandcamp, but are not official — they have all been curated and posted onto bandcamp by quak. The bandcamp recordings are supposedly the exact audio taken from various handheld recordings of live shows, cut up into tracks for listening convenience. I cannot guarantee that the exact audio (or exact copies of careful digitizations) were actually used for these, so they are marked as dubious. "Live at the Silent Barn" in particular is linked to by YouTube uploader Seamus, pointing to the "original file", hosted at Mediafire as a CBR 160kb/s MP3. I presume that this is the source of the FLACs hosted on the corresponding bandcamp page.
The Brave Little Abacus discography
title
Demo?
[split] Matt Aspinwall / The Brave Little Abacus
Masked Dancers: concern in so many things you forget where you are
just got back from the discomfort—we're alright
Live at Winter Barnaroo
Live at the Silent Barn
Untitled (Live at the Middle East)
Okumay
Last Show at the Vic Geary Center
VHS Recordings (2​.​20​.​10—6​.​26​.​10)
cover art

other art
year
tracklist

1

The Buffalo

2

You're Not Me But Neither Am I

3

Imaginary Peaks, Imaginary Beasts

4

El Capitano
total duration

1

Matt Aspinwall — I

2

Matt Aspinwall — II

3

Matt Aspinwall — III

4

Matt Aspinwall — IV

5

Matt Aspinwall — V

6

The Brave Little Abacus — Sol

7

The Brave Little Abacus — (Yes, he did help overthrow Fulgencio Batista, but​,​) Che Guevara didn't wear his own t​-​shirts

8

The Brave Little Abacus — Good Atmosphere

9

The Brave Little Abacus — Untitled

10

The Brave Little Abacus — El Capitano (different mix)
total duration

1

I see it too.

2

"but I won't always be on the receiving end!"

3

a map of the stars

4

waiting for your return, like running backwards

5

(through hallways)

6

"he never even existed in the first place"

7

born again so many times you forget you are

8

(underground)

9

remember to wave (when looking down from the clouds)

10

It's a lot. It's seamless.
total duration

1

pile! no pile! pile!

2

Please don't cry, they stopped hours ago.

3

boy's theme

4

A highway got paved over my future, I drive it getting to school.

5

the blah blah blahs

6

can't run away

7

Untitled (cont.)

8

aubade (morning love song)

9

it's not what you think it is

10

Allston, Massachusetts December 2009–January 2010

11

bug-infested floorboards—can we please just leave this place, now.

12

orange, blue with stripes
total duration

1

Santa (Hell Yeah)

2

Don't Come Around Here No More (Please) (Ending)

3

45 Minutes From Somewhere Out There

4

Speech (Thank You)

5

Careful

6

Speech (Hard Work, Charity)

7

Untitled
total duration

1

45 Minutes From Somewhere Out There

2

Break 1

3

For geOn (For Colin)

4

Break 2

5

Careful

6

Break 3

7

Untitled
total duration

1

Untitled
total duration

1

For geOn (for Colin)

2

45 Minutes from "Somewhere Out There"

3

Don't Come Around Here No More (please)

4

Introducing Morrissey (Ergs! Cover)
total duration

1

Intro

2

El Capitano

3

(Yes, He Did Help Overthrow Fulgencio Batista, But​) Che Guevara Didn't Wear His Own T​-​Shirts

4

A Map of the Stars

5

Speech (Community, Okumay)

6

For geOn (For Colin)

7

Speech (More Okumay)

8

45 Minutes From Somewhere Out There

9

Speech (Even More Okumay, Bug-Infested Floorboards)

10

Bug-Infested Floorboards—Can We Please Just Leave This Place, Now

11

Speech (Rory's Apartment, Mall Rats)

12

The Blah Blah Blahs (ft. Rory Nolan)

13

Pile! No Pile! Pile! (ft. Colin Mainella)

14

Speech (Dad Appreciation)

15

American Girl (ft. Arthur Demirjian, Laura Stevenson)

16

Speech (NHBooking)

17

I See It Too. (False Start)

18

I See It Too.

19

Interlude – Secret Plans, Unresolved Cinematicities

20

Introducing Morrissey
total duration

1

Can't Run Away (2.20.2010 Allston, MA)

2

Orange, Blue With Stripes (6.26.10 Hopscotchoria)

3

Pile! No Pile! Pile! (6.26.10 Hopscotchoria)

4

You're Not Me But Neither Am I (2.27.10 Plaistow, NH)

5

Chopsticks (2.20.10 Allston, MA)

6

Allston, Massachusetts December 2009—January 2010 / Bug-Infested Floorboards—Can We Please Just Leave This Place, Now. (6.26.20 Hopscotchoria)

7

Eliot Pt. II (2.20.10 Allston, MA)
total duration

distributions

| dspr? | format | source | gratis? | URLs |
| --- | --- | --- | --- | --- |
| no | FLAC @ 44.1kHz & 16bit | bandcamp | yes | |

| dspr? | format | source | gratis? | URLs |
| --- | --- | --- | --- | --- |
| no | MP3 @ 258kb/s (VBR) | Quote Unquote Records | pay what you want | |