The Edmund Fitzgerald
Posted on:
other names
lifespan
–
genres
located in
Oxford, Oxfordshire, England
related artists
members

Yannis Philippakis

:

Jack Bevan

:

Lina Simon

:

associated labels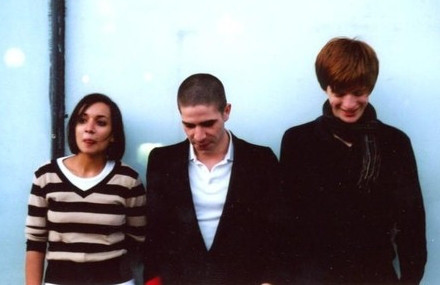 The Edmund Fitzgerald was a math rock band from Oxford that is best known for being the predecessor of math pop (and later, indie rock) band Foals. The Edmund Fitzgerald's sound was less poppy than what Foals would later be, and their music is centered around dynamic, long-form songs (in the post-rock style). Some of the band's music (q.v. the first six tracks off of the "[compiled demos]") warrants use of the midwest emo label here, for the dynamism combined with twinkly guitars, the vocal style, and punk attitude suggest it — a comparison could perhaps be made to The Van Pelt. Their other music is more clearly math rock, focusing on the interplay of noodly guitars (sometimes clean, sometimes distorted) with athletic drumming, in a style comparable to bands like The Purkinje Shift and Don Caballero (although not instrumental, unlike those two bands). In , Lina Simon quit the band, opting not to pursue a musical career at the time. Yannis Philippakis and Jack Bevan would go on to form Foals.
Gallery of images associated with The Edmund Fitzgerald:
notes on the distributions
The tracks on "[compiled demos]" are generally of uncertain date, as none of them were officially released as far as I know. They are probably mostly from , so that is the date used here.
The distributions for "Truck 2003 I am Five", "The Edmund Fitzgerald / Youthmovie Soundtrack Strategies", "Silver Rocket SR50", and "Noisestar Sessions #05 And #06" all only contain The Edmund Fitzgerald's contributions to each of those albums, respectively.
The Edmund Fitzgerald discography
title
[compiled demos]
[V/A] Truck 2003 I am Five
[split] The Edmund Fitzgerald / Youthmovie Soundtrack Strategies
[V/A] Silver Rocket SR50
[split] Noisestar Sessions #05 And #06
cover art

other art
year
tracklist

1

Bobby Durst

2

In August

3

Sarin

4

It Must've Been the Machine

5

Dela Hoya

6

The Cosmonaut

7

Cans Of Rainwater
total duration

1

The Edible 5ft Smiths — Cycle Nova Scotia
???

2

The Broken Family Band — The Mardi Gras Rescue Mission
???

3

Finlay — Plastic Cowboy
???

4

The Edmund Fitzgerald — Eli Cash

5

Days Of Grace — Solaris
???

6

Daughters Courageous — Saddest Ever
???

7

Easy Tiger — Without You Girl
???

8

Fiel Garvie — Talking A Hole In My Head
???

9

Chris T-T & KTB — The Tin Man
???

10

Laura Veirs — Bedroom Eyes
???

11

Stars Of Aviation — Stars Of Aviation Are Singing About The Summer, But Is It Going To Be Sunny, Carole?
???

12

Vic Twenty — Kiss You
???

13

Rachael Dadd — 180
???

14

Brotherhood of Fish — Sick Of Goodbyes
???

15

Winnebago Deal — Two Minute Warning
???

16

The Epstein-Barr Virus Band — NYC Blues
???

17

The Amy Matthews Trio ft. Will Bartlett — Joy Is A High Window
???
total duration
???

1

The Edmund Fitzgerald — Horses

2

Youthmovie Soundtrack Strategies — When We Won't Have To Make The Freezing Scene No More
???
total duration
???

1

Joeyfat — Valréas To Villard De Lans (180km)

2

Stanton — Ripped Up

3

Ships-A-Going Down — Girl/Ninjo

4

These Hands — Marvin's Dance

5

Macrocosmica — Albanian Modes

6

Spraydog — Get This Way

7

Torgas Valley Reds — Deep In The Ground

8

Kaito — Non-Descript

9

Help She Can't Swim — Knit 1, Pearl 1

10

Todd — Dangerous Drifter

11

The Rock Of Travolta — Keep Them All Afraid And They'll Consume

12

The Scaramanga Six — The Electricity Bill

13

Pfaff — Lay Down In The Grass

14

Lords — Baijoul

15

Fixit Kid — Hand Of God

16

Part Chimp — Seedsy

17

Beachbuggy — Nineteen

18

Querelle — Wind Me Up

19

The Edmund Fitzgerald — Two Broke Kids Bikes/These Wet Houston Driveways

20

Cove — Thelonious Monk Vs Melodious Funk

21

Los Planetos Del Agua — Devoid Of Green

22

Youthmovie Soundtrack Strategies — Radiodistalgesic

23

Reynolds — Younga (Live At Silver Rocket)

24

Drop Bear — We Examine

25

Jullander — Het Blauwe Stad

26

Audiowhore — Who Died And Made You The Botanist?

27

Weevil vs The Swedish Chef — Raindrowned

28

Princess Headbutt — Carving The Iron Moustache Part One

29

Jet Johnson — Point Of Goodbyes

30

Mercedes — Sinc (Kevin Shields Mix)

31

Prague — Needless Talks

32

Tempertwig — Heartfelt Letter To An Ex-Friend

33

Radio Stoke — Indoor Skiing

34

Castro — Blow Out

35

Magoo — The Silver Surfer

36

Les Flames! — Une, Deux, Trois, Quatre...

37

Pilot To Gunner — Get Saved

38

Team — Racing Line

39

Oil Red O — Mammoth

40

Montana Pete — White Lightning

41

Reverend Pike — Boy Parts

42

Twinkie — Is It Dieter Or Is It Peter?

43

Hyper Kinako — Car & Kettle

44

DJ Downfall — Black Pants

45

Ann Arbor — Creep Diet

46

MJ Hibbett — I've Got What You Need

47

William Elliott Whitmore — From The Cell Door To The Gallows

48

Econoline — Turn Off The Machines (Live)

49

Wolves! (Of Greece) — Hey! I Look Good In Jeans (Live)

50

Hey Colossus — Silver Rocket [Sonic Youth cover]
total duration
???

1

The Edmund Fitzgerald — My Quiet Hearts Slight Of Hand

2

Bilge Pump — Storm In A Teardrop

3

Bilge Pump — Yell The Tell

4

Bilge Pump — Art Nouveau

5

Bilge Pump — Rebel Decade
total duration
???

distributions