The Para-medics
Posted on:
Last edited on:
other names
lifespan
–
genres
located in
Chicago, Illinois, United States
related artists

Monobody
Rennaisance Sound
Ittō
Loose Lips Sink Ships
Den
My Dad
Old Fuck
Nnamdi Ogbonnaya
Lifted Bells
Their / They're / There
Luscious Duncan
Albatross
Nervous Passenger
The Sooper Swag Project
Water House
Teen Cult
Pisces at the Animal Fair

members

Nnamdi Ogbonnaya

:

Dylan Piskula

:

Steve Marek

: ( – )

Matthew Frank

: ( – )

Brian Baliga

: ( – )

associated labels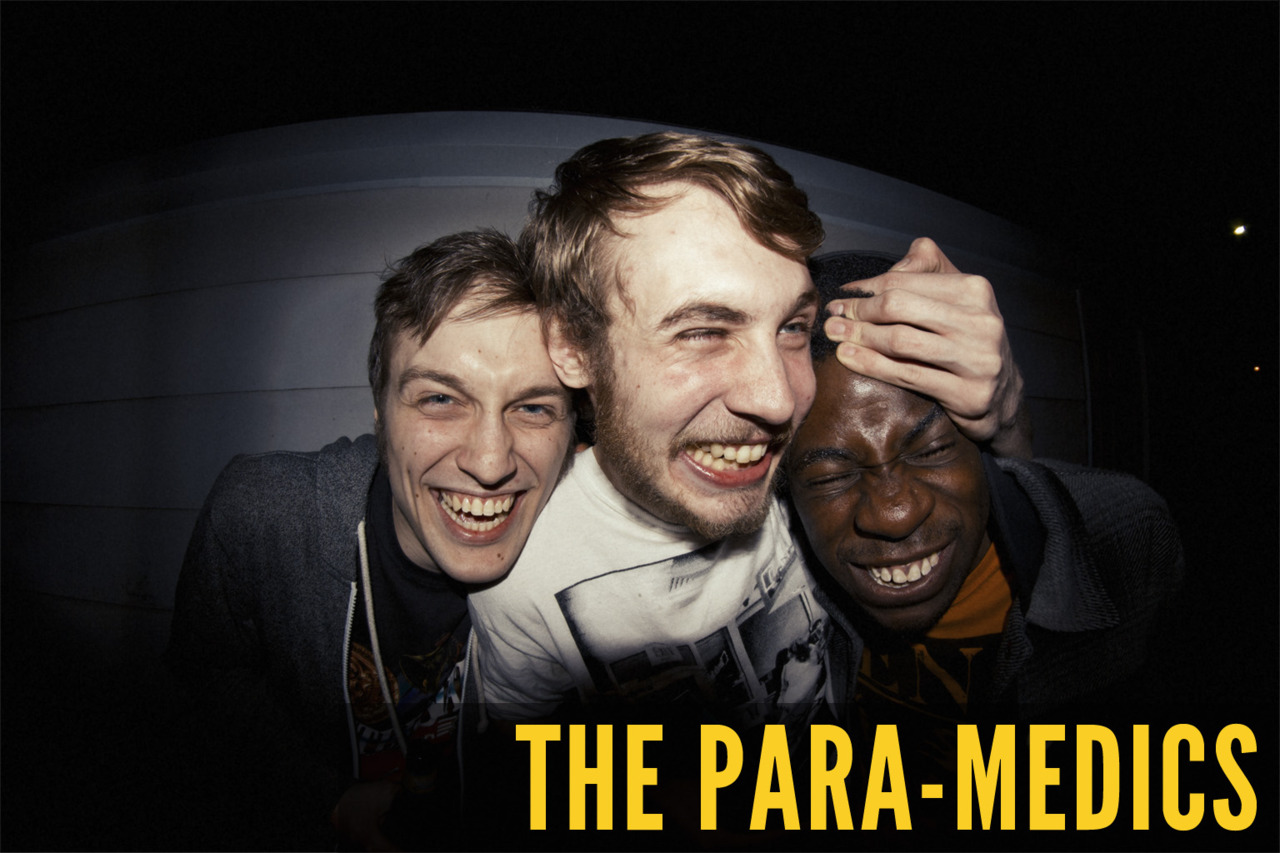 The Para-medics was a math rock band from Chicago, formed some time in . Originally releasing music independently, they were one of the first signees of Swerp Records in

, a label specialising in the music of the

south suburbs of Chicago. The Para-medics dissolved some time around when Swerp dissolved in (see Fecking Bahamas's retrospective on the label; archived). With the band's dissolution, drummer Nnamdi Ogbonnaya would go on to be the drummer for, and later bass guitarist Steve Marek would go on to be a bass guitarist for, current Chicago math rock/jazz fusion outfit Monobody. Guitarist Dylan Piskula went on to join Chicago noise rock/sludge metal outfit Den as a bass guitarist, later guitarist Matthew Frank plays as part of Chicago midwest emo outfit Lifted Bells, and earlier bass guitarist Brian Baliga has done solo work under the name Luscious Duncan.

The music of The Para-medics takes after the music of their Chicago (or perhaps, "lava land") forebears piglet; perhaps because the music is (very nearly) entirely instrumental, some sources label The Para-medics as "progressive rock" or similar, but The Para-medics are thoroughly math rock. Like the music of piglet, that of The Para-medics places equal emphasis on all three components of its standard rock instrumentation (although they would later be a four-piece, including additional guitarist Matthew Frank): drumkit, guitar, and bass guitar. They feature many of the mainstays of the math rock genre, including complex song structures, agile (and often tapped) bass guitar and guitar riffing, and oddball rhythms. Their music is also highly dynamic, alternating between busy mid-tempo sections, sparse and quiet sections, aggressive hardcore punk riffing, and even partly improvised "freakout" sections. Unfortunately, their music suffers just a bit from the poor production; however, check out "Patsy Cline Gun Squid" and later releases for some production that is improved over "Switch It On Em!!!".
notes on the distributions
The information on the first two releases ("The Para-medics" and "Switch It On Em!!!") is scarce and dubious. "Burkina Faso (We Can Dance)" showed up at some point on their bandcamp page, and the release date there is also used here. However, the other two tracks only seem to appear on their MySpace page (archived). Also, the cover art used here for "Switch It On Em!!!" appears to have been used for "The Para-medics" (listed as "The Para-medics EP" on their bandcamp). Most sources list the release date of "Switch It On Em!!!" as (as it was listed on their bandcamp), but the band apparently had only formed by — this date is presumably a joke. MusicBrainz lists the release date as , which makes more sense, and also agrees with their MySpace page, so that is the date used here.
The Para-medics discography
title
The Para-medics
Switch It On Em!!!
Patsy Cline Gun Squid
DOGGY TREATS
[V/A] This One's Eight
cover art

other art
year
tracklist

1

Nevermind, no ones home...

2

Burkina Faso (We Can Dance)

3

Delerium Tremens
total duration

1

Slaying Mantis

2

Tropical Caterpillar

3

Mosquito Pope
total duration

1

Dukakis

2

Slaying Mantis

3

Tropical Caterpillar

4

40 Million Gold Rings

5

Mosquito Pope
total duration

1

I'll Give You Four Quarters For a Dahmer

2

Pork Sword
total duration

1

Axes — Junior

2

Grand Beach — Because Of Neil

3

The Bulletproof Tiger — Franko Spanko's Greatest Hit

4

Vasudeva — Stop Making Yourself Miserable

5

Their / They're / There — New Blood

6

Orchards — Chemystery

7

A.M. Overcast — Figure It Outwards

8

Fish Tank — Friends

9

halfsleep — Opaque

10

Trojan Horse — Jurapsyche Park

11

AKDK — Battersea

12

John — Big Game Tactics

13

Shambles In A Husk — The Towie Effect

14

Fearless Leader — Let's Say Hello with Violence

15

The Para-medics — Ted Nugent's Fuck Jenga

16

Postmadonna — Cater to the Slackers

17

Valerian Swing — Cancer Minor

18

Talons — The Wild Places

19

Vasa — Not A Cop

20

Polymath — Castrovalva

21

Father Figure — March of the Rare Bird

22

Usurp, Rise — Proceed to Retrogress

23

Jean Jean — Wonderbras

24

Mimas — Don't Be Evil

25

Olympians — Brunch Cannon

26

Memory Map — The Celebrated Summer

27

Dad Rocks! — Daughter Track

28

Noyo Mathis — Torn In Two

29

Slim Charles — GPS

30

Waking Aida — Your Tiny Voice Is Booming

31

Alright The Captain — HBT

32

Vasquez — Thumbmusic

33

Constant Waves — (I've Got Your Mum In A...) Headlock

34

Ishmael — Primal Etiquette

35

King Capisce — Shake the Dust

36

Giraffes? Giraffes! — In The Middle Of The Night Someone Tore Off The Ceiling And Sucked Me Into The Sky / Before My Eyes Began To Boil I Saw Billions Of Tiny Webs Connecting Everything
total duration

distributions
None! Do you have one?

| dspr? | format | source | gratis? | URLs |
| --- | --- | --- | --- | --- |
| no | FLAC @ 44.1kHz & 16bit | bandcamp | pay what you want | |

| dspr? | format | source | gratis? | URLs |
| --- | --- | --- | --- | --- |
| no | FLAC @ 44.1kHz & 24bit | bandcamp | no | |