The Redneck Manifesto
Posted on:
other names
lifespan
– present
genres
located in
Dublin, County Dublin, Ireland
related artists

Jape
Somadrone
Dimman
The Connectfour Orchestra
Jackbeast
Black Belt Jones
Sir Killalot
The Waltons
Hylton Weir
ViSIONAiR
Bill Blood
The Bons Ensemble
David Kitt
Goodtime John

members

Richie Egan

:

Niall Byrne

:

Matthew Bolger

:

Mervyn Craig

: ( – )

Neil O'Connor

: ( – ?)

Glenn Keating

:

associated labels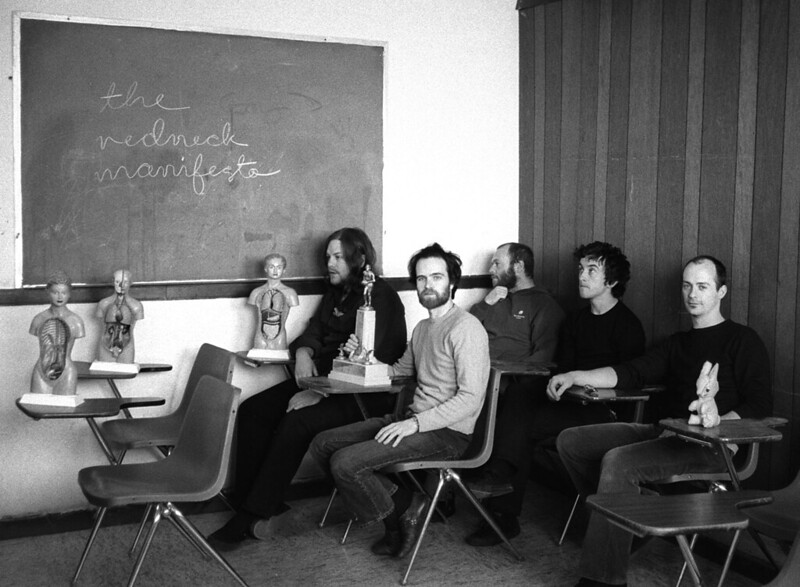 The Redneck Manifesto are one of the premier acts of the math rock canon. They are a band hailing from Dublin, alongside other illustrious Irish math rock acts such as Alarmist, BATS, and Adebisi Shank. Being purely instrumental and guitar-centric, alternating between clean soft-sounding arrangements and fuzzed-out post-hardcore ones, and making sporadic use of electronic elements, they could be thought of as the Irish response to Don Caballero; The Redneck Manifesto, however, have a very unique and instantly recognizable sound that is very strongly melodic, and influenced by electronic music to some extent (c.f. Jape).
notes on the distributions
The albums with names that start with "trm:" (e.g. "trm:one") are also known by various other names, like "Trmone", "TRM:1", "TRM:One", "EP One", &c.
"RMNMN" contains five tracks, one from each member of the band. On the packaging of the physical version, the track names are represented as graphics rather than text.
The Redneck Manifesto discography
title
trm:one
[split] The Idiots / The Redneck Manifesto
trm:three
trm:five
[split] The Redneck Manifesto / The Kabinboy
Thirtysixstrings
Cut Your Heart Off From Your Head
I Am Brazil
Seven Stabs
RMNMN
Friendship
The How
[split] The Redneck Manifesto / LITE
cover art

other art
year
tracklist

1

Eugene's Hot Lunch

2

In Hindsight
total duration

1

The Idiots — Sample
???

2

The Redneck Manifesto — He Threw Down His Rifle And Ran
???
total duration
???

1

Go Goat Go

2

Bringing Back The Buffalo
total duration

1

Loopy Lou Meet Jimmy Joe

2

Ok Frenchie

3

Pat Sherrill Jokes
total duration

1

The Redneck Manifesto — Hit Him In The Belly With A Hammer
???

2

The Kabinboy — Untitled
???
total duration
???

1

You Owe Me Five Potatoes

2

Sweet Pot

3

Slow on the Uptake

4

Sounds Better Than It Looks

5

Clue Out Puzzles

6

Speaking of Clowns

7

Soundscapes Over Landscapes

8

I Don't Speak the Monkey Language, I Just Hear It

9

Arbus

10

Thirtysixstrings
total duration

1

Cut Your Heart Off...

2

Please Don't Ask Us What We Think of Your Band

3

You Say Tomato, I Say Tomato

4

Make Yourself Comfortable

5

The Dillon Family Dancers

6

Part Monkey, Smart Stallion

7

...From Your Head
total duration

1

I Am Brazil

2

Take on Us

3

We Still Got It

4

Another Day of Hunting

5

Hibernation Statement

6

Break Your Fingers Laughing

7

I Have Not Make It

8

Who Knows?

9

Bring Your Own Blood

10

Paint the Dikbloc Pink

11

Good with Tempos
total duration

1

It's Song Time

2

Uno Dos Capos

3

Seven Stabs

4

Eld Panter

5

No One Plans Eleven

6

Turn on Silent

7

Play It by Arm
total duration

1

1MNMN

2

R2NMN

3

RN3MN

4

RMN4N

5

RMNM5
total duration

1

Black Apple

2

Smile More

3

Drum Drum

4

Little Nose

5

Tomb of the Dudes

6

Hex

7

Rubber Up

8

Weird Waters

9

Click

10

Cloud Beard
total duration

1

Djin Chin

2

The Rainbow Men

3

Sip Don't Gulp

4

Kobo

5

Head Full Of Gold

6

No One

7

Sweep

8

We Pigment

9

The Underneath Sun
total duration

1

The Redneck Manifesto — Look Lively
???

2

LITE — Temple
???
total duration
???

distributions
None! Do you have one?
None! Do you have one?

| dspr? | format | source | gratis? | URLs |
| --- | --- | --- | --- | --- |
| no | | Stiff Slack | no | |