TTNG
Posted on:
Last edited on:
other names
lifespan
– present
genres
located in
Oxford, Oxfordshire, England
related artists

saleontomorrow
Pennines
Datura

members

Tim Collis

:

Chris Collis

: ( – present)

Henry Tremain

:

vocals
bass guitar
guitar

( – present)

Stuart Smith

: ( – )

Jamie Cooper

:

bass guitar
secondary vocals

( – )

Jody Prewett

: ( – )

Dan Adams

: ( – )

Matt Bennington

: ( – )

Ian Lewis

: ( – )

Simon Thompson

: ( – )

associated labels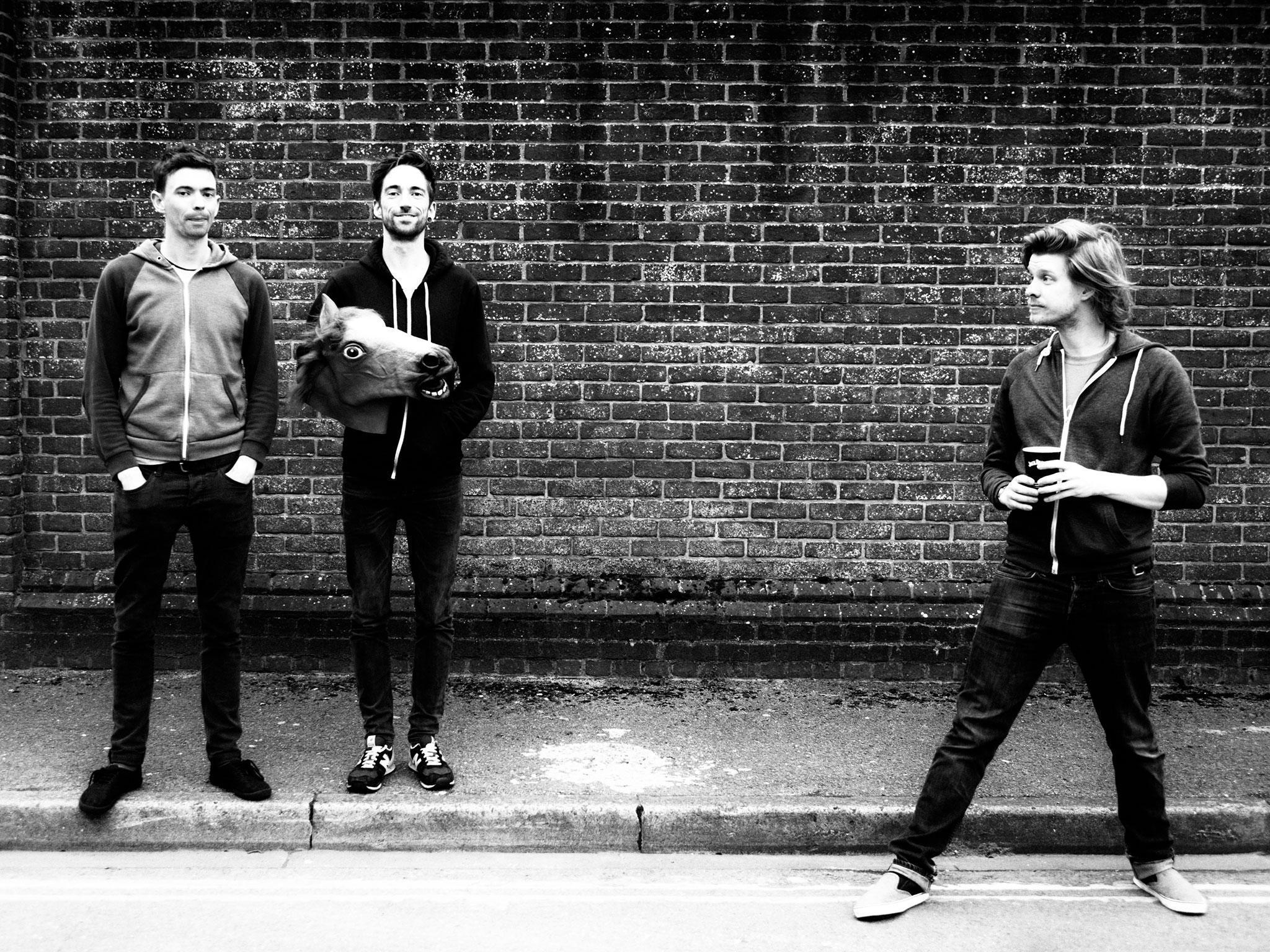 TTNG (f.k.a. This Town Needs Guns) is an English math pop band that has been around since at least , although they have undergone several lineup changes since then. Guitarist Tim Collis has, strictly speaking, been the only constant member of the band since , although his brother, drummer Chris Collis, has been a member for the entire time that TTNG has sounded like, well, TTNG.
TTNG are a staple of the math rock genre, and as such need little introduction. Though they never quite achieved the same kind of mainstream success as fellow Oxford math poppers Foals, they are about as widely popular as you can be while still sticking to math rock. Their origins as a fairly standard early-2000s post-hardcore act into their maturity as a math rock/math pop act, combined with some influence from midwest emo, post-rock, and the Spanish-tinged guitar stylings of Tim Collis, formed TTNG into the ferociously unique, creative, and mature band that we know them as now.
If you aren't already familiar with TTNG, it is worth noting that "Animals" was the album that launched TTNG's worldwide success; it is, however, also highly recommended that you check out their other works, including "Disappointment Island", "This Town Needs Guns", "Adventure, Stamina & Anger", "13.0.0.0.0", &c.
notes on the distributions
The tracks on "First Demo [unreleased tracks]" were slated to be released as part of the "First Demo", but have, to this day, never been officially recorded nor released. For this reason, they are placed in their own entry of the discography.
The first two tracks of "[unreleased]" (dating to ) and both tracks of "First Demo [unreleased tracks]" are sourced from Tom McEggs Dennis's archival of the "Classic This Town Needs Guns" MySpace page. There is a textual document as well as a series of images associated with this archival, and those are reproduced as part of the "First Demo [unreleased tracks]" distribution. For the sake of redundancy and ease of access, these auxiliary documents will be reproduced here as well:
Classic TTNG Biography.txt

Source of info, music, and photos:


http://www.myspace.com/classicttng





I am not the owner of this myspace page nor am I affiliated with it, but if you have any TTNG songs that would be deemed "classic" make sure you probably can't send them


to whomever runs that myspace, as they havn't logged into it for over 5 years. I'd appreciate it if you could send the file or mediafire link to my email address


(tommy_the_c@hotmail.com). It should be okay, as these songs aren't for sale anywhere. I will also make sure that anyone who wants these songs will recieve them via


amail or by sending them a mediafire link. Thank you.





Bio:


..This Town Needs Guns


circa 2002-2003!..


This myspace is dedicated to long-forgotten material by This Town Needs Guns. If you have anything to add, please send a message! For now, here's what there is...


Two live tracks from One Mic at Oxford Brookes SU in 2002 (Better & Purge). This was back when This Town Needs Guns were a 3-piece.





Plus two tracks released on a demo CD, recorded in November 2003 (I Will & All That's Between Us). Here's what Stu had to say about it:


"We've been busy in the studio for the last couple of weeks trying to put a demo together. The whole recording process is taking much longer than we thought, although


we're hoping to have finished recording by the end of the week. Hopefully then, we'll be able to get alot more gigs. This months special thanks (as there seems to be one every month)


has to go out to Alex for helping us record the demo, without him we wouldn't have a bloody clue!" (01/12/2003)





Photos are from the Eights Bar gig at Wheatley SU in November 2003. Here is what Stu had to say about that gig afterwards:


"We played a last minute rushed gig last night in Wheatley. Sorry to everyone who we weren't able to tell the gig about (especially Bridget who is very upset), but in


all honesty you didn't miss our greatest performance! We decided before going that it was about time we had some fun onstage. Unfortunately, 'fun' resulted in us not sounding our best


(this however was expected, due to the underpowered sound rig at the 8's bar). The technical problems that have been plaguing us since we started continued, when my amp's channel switch


got stuck and l was forced to play the last song, entirely distorted, but 'oh well,' l suppose its just unlucky. Not too sure what people thought of it. There were alot of funny looks and


a couple of people walked out, but that is to be expected when you are playing 'heavy' music after a night of acoustic performances. We were asked to play again by the organiser (thanks for


putting us on Keith). Once again thanks to everyone who played before us, but we really need to get some 'proper' gigs now." (05/11/2003)





In early 2004, the band's lineup changed, to the point where Stu was considering changing the name of the band! Here's what he had to say about it:


"Ok, so someone please remind me to never say anything about reporting 'good news' ever again. In the last month, two members of the band have now left. We had to cancel the gig on the


8th of February [2004], but Simon and Ian agreed to play one last gig on the 29th of January. The gig was well shoddy, with the sound being pretty attrocious. Mics cut out, strings


broke, and drum pedals stuck, but it was all in the name of fun. We got a fair review in OBscene, which we can't complain about."(27/02/2004)





But this did turn out to be 'good news' in the end, as the band started to play some 'proper' gigs, and won the Battle of the Bands competition at the Wheatsheaf 3 months later! Nightshift


soon stopped describing them as "ramshackle, run-down indie trash" (!) and said they were "heading in the right direction," which obviously proved to correct, as in 2006, DiS said, "Oxford is


soon to be remembered as the city where this precocious young act began its rise to success" ... :)





.. ..


Member Since:


December 17, 2006


Members:


2002-2003: Stu (vocals, guitar), Tim (guitar), Welsh Ian (bass), Simon (drums)


Influences:


I remember when Stu first heard "Stress On The Sky" by Biffy Clyro... his response was, "OMG this is what I want my band to sound like!" :)


Sounds Like:


Have a listen and see for yourself! Definitely not like "Incubus on acid," as some Oxford University reviewer described them after playing a Battle of the Bands heat in spring 2004.

"[unreleased]" collects, in chronological order, various bootleg versions of songs that have never officially been released by the band. They represent "release" years of ("Better" and "Purge"), ("Al Fresco"), ("Ron Jeremy Beadle", a song written for the occasion of Stuart Smith's departure from the band), ("[unreleased, 2015]"), and ("[unreleased, 2016]"). Note that this does not include the two tracks that were slated to be on the demo; these get their own special entry in the discography.
"Hippy Jam Fest" (sometimes known as either "Hippy Jam Fest (The Likes Of Which Has Never Been Seen)" or "Hippy Jam Fest (The Likes Of Which Has Never Been Seen Before)") was originally self-released by the band on CD-R; the track listing of this original version is represented here. However, the versions that can actually be readily found are instead representative of the partial re-issue by Big Scary Monsters, which only features the tracks "Hippy Jam Fest (The Likes Of Which Has Never Been Seen Before)", "Denial Adams", and "Like Romeo And Juliet". As a result, the other two tracks are of incredibly dubious provenance and appear to either have had very poor recording quality, or were mangled at some point(s) (or both…). Nevertheless, the two versions are merged here (to jarring effect) in order to reconstruct the track sequence of the original.
All of the tracks on This Town Needs Guns's side of their split with Cats And Cats And Cats can be found on their self-titled LP.
Tracks 14 and 15 of "Animals" also appear on "This Town Needs Guns". Track 16 was released as a bonus track for the decade anniversary of the album, and is free to download from the respective bandcamp page.
The 13th and final track of "13.0.0.0.0" is a bonus track from the Japanese edition, distributed by Stiff Slack. The dspr distribution only contains this track, since the other tracks are available from the corresponding bandcamp page.
TTNG discography
title
First Demo
First Demo [unreleased tracks]
Hippy Jam Fest
[split] Cats And Cats And Cats / This Town Needs Guns
This Town Needs Guns
Animals
Live Acoustics
Adventure, Stamina & Anger
13.0.0.0.0
[live acoustic bootlegs]
On Audiotree Live
[unreleased]
Disappointment Island
Animals Acoustic
cover art

other art
year
tracklist

1

They Speak With Strange Accents

2

This Is Wrong

3

Forever and Always

4

Vaguer Transmission

5

Eleven

6

Curiosity Compels Me
total duration

1

I Will

2

All That's Between Us
total duration

1

Hippy Jam Fest (The Likes Of Which Has Never Been Seen Before)

2

Antimony

3

Denial Adams

4

Like Romeo And Juliet

5

Killer Eskimos
total duration

1

Cats And Cats And Cats — Brilliant the Brilli Ant

2

Cats And Cats And Cats — Anchoress

3

Cats And Cats And Cats — Sweet Drunk Everyone

4

Cats And Cats And Cats — Tower Tower

5

This Town Needs Guns — 26 Is Dancier Than 4

6

This Town Needs Guns — If I Sit Still Maybe I'll Get Out Of Here

7

This Town Needs Guns — 1470 Man

8

This Town Needs Guns — It's Not True Rufus, Don't Listen To The Hat
total duration

1

26 Is Dancier Than 4

2

And I'll Tell You For Why

3

I'll Forget About You Throwing That Rock Cos That Dance Was Pretty Funny

4

1470 Man

5

Want To Come Back To My Room And Listen To Some Belle And Sebastian?

6

If I Sit Still, Maybe I'll Get Out Of Here

7

Japanese Ultra-Violence In D-Minor (The Saddest Chord)

8

It's Not True Rufus, Don't Listen To The Hat
total duration

1

Pig

2

Baboon

3

Panda

4

Gibbon

5

Rabbit

6

Badger

7

Elk

8

Crocodile

9

Quetzel

10

Chinchilla

11

Dog

12

Lemur

13

Zebra

14

If I Sit Still, Maybe I'll Get Out Of Here

15

26 Is Dancier Than 4

16

Aardvark
total duration

1

Baboon

2

Panda - Acoustic
total duration

1

Adventure, Stamina & Anger

2

Mnspector Iorse
total duration

1

Cat Fantastic

2

Havoc In the Forum

3

Left Aligned

4

In The Branches of Yggdrasil

5

I'll Take the Minute Snake

6

2 Birds, 1 Stone and an Empty Stomach

7

Nice Riff, Clichard

8

Triptych

9

Pygmy Polygamy

10

A Different Kind of Tall (Small)

11

+3 Awesomeness Repels Water

12

13.0.0.0.1

13

Vibe Check
total duration

1

26 is Dancier Than 4 - Acoustic [@ Taylor Guitars]

2

26 is Dancier Than 4 - Acoustic [@ The First Unitarian Church]

3

2 Birds, 1 Stone, and an Empty Stomach - Acoustic [@ somewhere in Ireland]
total duration

1

Cat Fantastic

2

Left Aligned

3

Adventure, Stamina & Anger

4

Havoc in the Forum

5

If I Sit Still, Maybe I'll Get Out of Here
total duration

1

Better

2

Purge

3

Al Fresco

4

Ron Jeremy Beadle

5

[unreleased, 2015]

6

[unreleased, 2016]
total duration

1

Coconut Crab

2

A Chase of Sorts

3

Consoling Ghosts

4

In Praise of Idleness

5

Whatever, Whenever

6

Bliss Quest

7

There's no 'I' in Time

8

Destroy the Tabernacle!

9

Sponkulus Nodge

10

Empty Palms
total duration

1

Chinchilla

2

Baboon

3

Lemur

4

Badger

5

Quetzal

6

Panda

7

Elk

8

Pig

9

Gibbon

10

Dog

11

Crocodile

12

Rabbit

13

Zebra
total duration

distributions

| dspr? | format | source | gratis? | URLs |
| --- | --- | --- | --- | --- |
| no | FLAC @ 44.1kHz & 16bit | bandcamp | pay what you want | |

| dspr? | format | source | gratis? | URLs |
| --- | --- | --- | --- | --- |
| no | | Audiotree | no | |