Volta do Mar
Posted on:
other names
lifespan
–
genres
located in
Chicago, Illinois, United States
related artists

Oso
Hashbrown
American Draft
Catamount

members

Jeff Wojtysiak

:

five-string bass guitar
secondary vocals

Mike Baldwin

:

six-string bass guitar
upright bass
secondary vocals

Phil Taylor

:

Tony Ceraulo

:

associated labels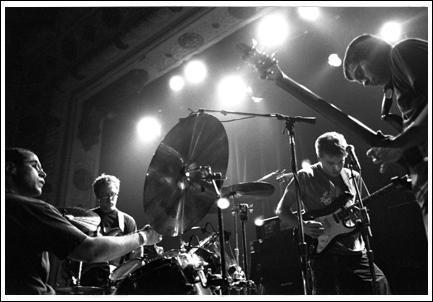 Volta do Mar was a math rock/post-rock band from Chicago that formed, in earnest, some time in . The band only released a single full-length record, "At the Speed of Light or Day" (), although they released a significant amount of other material as well, most of which is compiled on "03>98" (). Volta do Mar formed out of the dissolution of Chicago experimental rock band Hashbrown, in which bass guitarist Jeff Wojtysiak and guitarist Phil Taylor both played. All of their releases were on the now-defunct Champaign-Urbana record label Arborvitae Records ("Team AV"), a small label perhaps best known for releasing piglet's "lava land" ().

See Pitchfork's review of Volta do Mar's debut EP (archived).

Speaking of piglet, fans of piglet who are not already aware of Volta do Mar (as Volta do Mar are, unfortunately, somewhat neglected within the math rock canon) are sure to love some of Volta do Mar's similarities with their more well-known labelmates: the (largely) instrumental nature of the music, the focus on electric bass guitar and its contrast with a single electric

guitar, and [experimental](/genres/experimental-rock) but

melodic compositions that borrow as much from post-rock as they do from post-hardcore. One of the main differences, of course, is that Volta do Mar did it first. In addition, Volta do Mar focus on bass guitar nearly to the point of obsession; the band had two bassists, one typically playing a five-stringer, and the other typically playing a six-stringer. Furthermore, in contrast to the extremely tightly-knit compositional style of piglet, Volta do Mar take more conscious influence from local post-rock pioneers like Tortoise and June of 44 when it comes to their winding and meandering song structures. Volta do Mar are surely one of the pioneers of the math rock and post-rock genres as we know them today, even if their names are not as often enshrined in canon as those of the artists that they influenced.
notes on the distributions
"Volta do Mar…" is sometimes listed as simply "Volta do Mar". All of the tracks from this album were re-released as part of the compilation record, "03>98".
Three of the four Volta do Mar tracks off of "Konrad Friedrich Wilhelm Zimmer" appear re-released as part of the compilation record, "03>98".
"03>98" is sometimes listed as "03 > 98" or as "3>98". The sixth track from that album, "The Lawless Days of Drinking Whiskey in 10th Grade", is sometimes listed as simply "Lawless Days of Drinking Whiskey in 10th Grade".
Volta do Mar discography
title
Volta do Mar…
At the Speed of Light or Day
[split] Konrad Friedrich Wilhelm Zimmer
03>98
Live at the Cooler Lounge 2003
cover art

other art
year
tracklist

1

…is the Turn of the Sea

2

Munich Air Disaster

3

Mass Transit Highway(s)
total duration

1

The Sound Of Day

2

7/1000

3

Rock For Nations

4

Lengua Pivo

5

Thoughts From The Assembly Line

6

Warszawa Minor

7

Breaking Ribs For Tom Thayer

8

Ransom Stoddard

9

Binary Penetration (IR)

10

Quiet Alley And Lonely Terrain

11

Another Air Strike Called Love

12

Music For Countries

13

Sound After Day
total duration

1

Volta do Mar — Ready Broken Fighter

2

Murder by Death — A Masters In Reverse Psychology

3

Volta do Mar — On a Hand Held Sky

4

Murder by Death — Canyon Inn, Room 16

5

Volta do Mar — Search Lights Burn the Cornfields Bright

6

Murder by Death — Knife Goes In, Guts Come Out

7

Volta do Mar — Fall Out of Cars Fall Out of Night

8

Murder by Death — We Watch a Lot of Movies
total duration

1

Maricopa

2

Sports Conquest

3

Hope Wave

4

Isola

5

Move Sparrow Fast Toward New Season

6

The Lawless Days of Drinking Whiskey in 10th Grade

7

Lust Wore Thin

8

On Hand Held Sky

9

Searchlights Burn Cornfields Bright

10

Fall Out of Cars Fall Out of Night

11

East is Steady

12

Song 3

13

Scream We're Ready (Hand Held Live in Arcata)

14

Turn of the Sea

15

Munich Air Disaster

16

Mass Transit Highways
total duration

1

Volta 1

2

Volta 2

3

Volta 3

4

Volta 4

5

Volta 5

6

Volta 6
total duration

distributions
None! Do you have one?
None! Do you have one?

| dspr? | format | source | gratis? | URLs |
| --- | --- | --- | --- | --- |
| no | FLAC @ 44.1kHz & 16bit | bandcamp | pay what you want | |