You Slut!
Posted on:
lifespan
–
genres
located in
related artists

Church of the Cosmic Skull
Mascot Fight

members

Richard Collins

:

Daz Cook

:

Gavin Poole

:

Sam Lloyd

: ( – )

Matt Swan

: ( – )

associated labels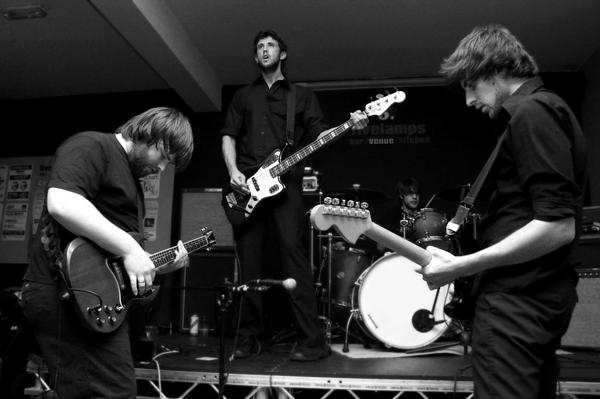 You Slut! was an English math rock band that formed some time in . Their first release was in : an EP by the name of "Grit Eyed & Greasy Tailed", which appears to only have been released digitally as a set of MP3s. Later , they released their first full-length and perhaps their most well-known album, "Critical Meat", featuring re-recordings of half of the songs on "Grit Eyed & Greasy Tailed". Their other major release was another full-length, released in , by the name of "Medium Bastard". Guitarist Richard Collins has also played drums for Derby indie rock outfit Mascot Fight since , and bass guitarist Sam Lloyd now plays for Nottingham psychedelic rock outfit Church of the Cosmic Skull.
The music of You Slut! is entirely instrumental, and portrays a kind of raucous "party math" aesthetic; cf. noumenon or even Belfast post-rockers And So I Watch You From Afar. The band themselves claim Baltimore math rock outfit Oxes as an influence, and this is clear in their music, with the focus on meaty guitar riffs — but You Slut! take less of a cue from noise rock and more of a cue from post-rock, although their goofball sense of humor is something that they share with Oxes. "Critical Meat" is a must-know for all fans of math rock.
notes on the distributions
"On the Count of Thirteen" from "Critical Meat" is sometimes listed as "On the Count of 13" or similar. "Critical Meat" was remastered in , and some (but not all) of the distributions below are of the remastered version.
You Slut! discography
title
Grit Eyed & Greasy Tailed
Critical Meat
[split] You Slut! / Monster Killed By Laser
Medium Bastard
Glandstand: The Theme from Grandstand
cover art

other art
year
tracklist

1

Roofio Shoots, Roofio Scores

2

Pie To The Death-Faced Indie Kid

3

Track Clagg

4

Parsleigh The Lion

5

Millions Of Jeffries

6

On The Count Of 13
total duration

1

Cut & Shut by You Slut!

2

On the Count of Thirteen

3

Roofio Shoots, Roofio Scores

4

On-the-Spot Tina Turner Fine

5

Pie to the Death-Faced Indie Kid

6

1s, 2ns (The Original Door)

7

Jarabew

8

MyBloodyJesusExplorerOnFire
total duration

1

You Slut! — On The Count Of 13

2

Monster Killed By Laser — Jasier
total duration

1

Pitch & Putt with You Slut!

2

Fifzteen

3

Elton Chong

4

Let's Do 'Do the What Now' Now

5

Magnifiererer

6

Plural Sex

7

Shellshock

8

Shopping Placenta

9

Hiya Higher Hire

10

More Than One Seamless
total duration

1

Glandstand: The Theme from Grandstand
total duration

distributions

| dspr? | format | source | gratis? | URLs |
| --- | --- | --- | --- | --- |
| no | FLAC @ 44.1kHz & 16bit | bandcamp | yes | |